Current Exhibitions
4 PILLARS OF THE SKY
Besançon Fine Arts & Archeology Museum | Besançon | France
/
Opening night Saturday November 16th 2019 at 7 pm.
Curator of the exhibition: Mr. Nicolas Surlapierre, Museum director
Contacts: Tel : + 33 (0)3 81 87 82 90 | musee-beaux-arts-archeologie@besancon.fr | Exhibition page | Press contact: Anne-Lise Coudert | anne-lise.coudert@besancon.fr | + 33 (0)3 81 87 80 47‬
---
EVENTS, DATES OF MEETINGS & CONFERENCES WITH THE ARTIST -
Friday, February 14th 2020, lecture by Jean-Pierre Sergent: Eros Unlimited, 7:30pm-9pm (informed audience)
Thursday, September 10 2020, evening with a conference broadcast by campus radio with Jean-Pierre Sergent, Louis Ucciani and Nicolas Bousquet, 7 pm
Saturday, September 19 2020, conference Jean-Pierre Sergent with Thierry Savatier and signature of the catalogue, 3 pm
---
FILMED EVENTS AROUND THE EXHIBITION

LECTURE BY JEAN-PIERRE SERGENT: EROS UNLIMITED 3 PARTS | Duration: 60:00 | February 14th 2020 - English subtitled
#1 non-western or pre-monotheistic works | #2, Adam & Eve, Sin, the Origin of the World | #3, some works of western art.
INTERVIEW WITH NICOLAS SURLAPIERRE (4 PARTIES) | Duration: 109:00 | June 24th 2020 - English subtitled
J-P Sergent exchanges with N Surlapierre about his current mural installation: The Four Pillars of the Sky (80 m2) at the MBAA, as well as about twenty images from different cultures (Mexican, Japanese, Oceanian etc.) chosen by the artist. Filmed at the Museum of Fine Arts on June 24, 2020.
INTERVIEW WITH RADIO CAMPUS BESANÇON BY AURÉLIEN BERTINI | Duration: 1:10 | September 10th 2020 (audio band)
Broadcast by Aurélien Bertini with: Jean-Pierre Sergent, Nicolas Bousquet and Louis Ucciani, from 7 to 8 pm.
LECTURE BY THIERRY SAVATIER: EROTICAL ART (eroticized representation in Western art) (3 PARTS) | Duration: 60:00 | September 19th 2020
Lecture by Thierry Savatier, Art Historian and world specialist of the work of Gustave Courbet, during the exhibition of Jean-Pierre Sergent "Les 4 piliers du ciel".
INTERVIEWS WITH THIERRY SAVATIER: THE EROTIC ART OF JPS (3 PARTS) | Duration: 45:00 | September 19th 2020
Talks between Jean-Pierre Sergent and Thierry Savatier, they exchange about many erotic works of art of the artist realized since his New York years (1993-2003) until today.
INTERVIEW-TALK WITH THIERRY SAVATIER #5 | THE FOUR PILLARS OF HEAVEN (3 parts) Duration: 35:00 | July 2nd 2021
They exchange, in front of the paintings, about the physical implantation of this work and this 'out of scale' mural installation, about parietal art and the necessary rewilding in Art and in the creation in general. The transcript of these interviews was published in full in the English Art Magazine Luxury Splash of Art of London on October 23, 2021.
INTERVIEW WITH NICOLAS SURLAPIERRE (4 parts) Duration: 65:00 | June 30th 2022
Jean-Pierre Sergent talks with Nicolas Surlapierre, the Museum director, about his mural installation: The Four Pillars of Heaven (80 m2) at the Museum of Fine Arts and Archaeology of Besançon.
---
THE MUSEUM
In the heart of the historic city, the Besançon Museum of Fine Arts and Archaeology has a long and surprising history. It is the oldest French public collection, since its origin dates back to 1694, a century before the creation of museums during the French Revolution (Le Louvre opened in 1793). This mural installation by Jean-Pierre Sergent is presented in parallel with the major exhibition of national interest: François "Boucher's Dream China"
---
DIRECTIONS
---
THE INSTALLATION
Seventy-two square unit size Plexiglas paintings, measuring one meter five by one meter five, chosen from the series of Entropic Suites created between 2010 and 2015, are installed on eight panels facing the four corners of the museum's two main staircases. This monumental installation of eighty square metres in size, is to this day the largest ever made by the French-New York painter.
- NB: View of a New York project large walls installations dating from 1996.
---
> Biography > Dossier de presse (2.4 MB Fr) > Communiqué de presse > Press release (J-PS Eng) > Invitation Card > Leaflet WE program 16 & 17 November (free entrance at the Museum - 1 MB FR)
---
THE FOUR PILLARS OF HEAVEN
These vividly coloured, encompassing and captivating works are presented here to show us and testify to the diversity of human worlds and cultures. Acting as ascending and lifting pillars, surpassing the somewhat austere architecture of the place, while developing and reintegrating a strong vital energy, a karma from buried, forgotten and sensitive worlds.
Initiator and initiator art, ritual of passage for the spectator, undoubtedly surprised to see so much diversity in a contemporary world, today very sad, neurotic, very dead and very grey! Because these works speak of my travels and encounters: from Egypt to New York, via Central America and my immoderate love of colour. In a world that destroys itself, more time to waste making art for art, my paintings bear witness to life itself, without detours, without make-up and without burdens. That's how life is! It is a healing message to be sent to the world and not a capsule containing messages for possible aliens!
I want my paintings and art to be: a wall art (even armor if you will! I don't care!), an art-architecture (like Indian tipis), an animal-art (like Lascaux), an art-tree, a river-art, an empty-art (like for Zen Buddhist monks), a nature-art, a sex-art, an art-dead (like Egyptian tombs), an art-pleasure (Dionysian), an art-presence, an art-soul, an art-joie (like in Jean Giono's books), an art-body (like in sexuality) etc.
It is no longer the being, the object, the subject or the painted rituals that are present, but the painting itself, transcending the material to become autonomous sacred being: in itself and by itself!
This myriadic and multifaceted art unfolds in my dreams, thoughts and realities as a nomadic and acrobatic art, an immense undefined puzzle to be rebuilt with each new exhibition. Settling, presenting and diffusing itself as a sumptuous mural art, non-dissociating, therefore connecting... In order to reintegrate myself and us into a generous, matrix and cosmic world. The world of the first original dream, creator and orgiastic of the dawn of time. And above all to regenerate and definitively annihilate death with its procession of unbearable absences induced.
Jean-Pierre Sergent, Besançon September 5th 2019
---
EXHIBITION CATALOGUE PDF (10MB)


---
TEXTS FOR THE EXHIBITION CATALOGUE

Published by the MBAA (graphic designer Thierry Saillard) with texts by Nicolas Surlapierre (director of the Beesançon center's museum): "Pushing screams" and "Insider beds", Thierry Savatier (art historian): "The four pillars of the sky", Marie-Madeleine Varet (philosopher) : "Metaphor and metamorphosis", Pierre Bongiovanni (curator): "Journey to the end of man's possible: the question of eroticism and ecstasy in the painted work of Jean-Pierre Sergent", Florence Andoka (journalist): "One way or another". This catalog is available at the bookstore on the first floor of the museum (price 10€).
---
SPEECH FOR THE OPENING NIGHT (16.11.2019)
Opening in the presence of Mr Nicolas Surlapierre, Mr Nicolas Bousquet, Mrs Claudie Floutier & Mrs Barbara Dasnoy. Special thanks to the museum's technical team & the City of Besançon.
Thank you very much Nicolas, good evening everyone! It's really a pleasure to see you all here together for this beautiful exhibition! I've been living here in Besançon for a very long time (15 years) and I've known two curators before and I've always tried to make this museum open to contemporary art. And finally, it is opening there, thanks to you Nicolas! I think this is good news for all the artists here tonight. Because I find, being a New Yorker and a Franc-Comtois; I find that France, in general, is not really open enough to contemporary art. And even if there are places dedicated to it, they are not very crowded. I'm going to say a few words about my mural installation: it's a work that comes from the series of Entropic Suites, which I've been completing in my studio in Besançon during five years (2010-2015). I chose seventy-two works from a stock of nearly two hundred paintings. And I want to talk here, in this museum, about the Four Pillars of Heaven, that is to say that in any "primitive" society (or first people), there is always a place called the axis mundi, where people can communicate with what are called gods or spirits, and in fact, it is a little bit this will there that I have here: to communicate perhaps with the dear departed, or with the art that I like and that disappears every day! Because we talk a lot and often about the disappearance of biodiversity! But so many human cultures are also vanishing in front of us today, that it often giving me nightmares… Really! And having had the chance to travel to Mexico and Guatemala and having been married to my friend Olga (who is of Colombian origin) and in New York having had the chance to meet so many friends from different cultures, I want to pay homage to them a little bit here tonight. And also to all those beautiful cultures that use colors the way I use them now. It's a bit of a theft or an appropriation, but it's a bit thanks to my friend Claudie, who also exhibits here and who was my colour teacher at the Besançon School of Fine Arts, that I was able to grasp the beauty of colour. Of course in my work, I also talk about energies, I discussed it earlier with friends, I think that beauty is an energy! And the Navajo Indians say it in their Song of the Night (In beauty, may I walk...). There you go, I wanted to thank of course all the museum teams, all the technicians in particular, who worked almost three weeks to a month to get these beautiful paintings installed in this museum. And I have some thoughts of course for my family, who unfortunately couldn't come tonight, and for my dad and my grandfather who left (for the big journey). I also see my friend Pierre-Louis Brechat, who made me do my first silkscreen print and who always says to me with pride: It was me who made you do your first silkscreen print and it's true! Even if I didn't stay very long at the School of Fine Arts, I nevertheless enjoyed this moment and I am very happy, proud and honored to be with you here tonight. Thank you all again and have a good evening.
---

- View of the installation 4 Pillars Of The Sky, North Staircase, 2 x 18 paintings on Plexiglas, photo by Lionel Georges, October 14th 2019.
---


- View of the installation 4 Pillars Of The Sky, South Staircase, 2 x 18 paintings on Plexiglas, photo by Lionel Georges, October 14th 2019.
---
A 360° VIEW OF THE INSTALLATION - August 22 2023

In partnership with l'Agence Vauban Besançon, camera: Mathieu Allard & Mathis Jacquerot

---
VIDEOS OF THE PREPARATION & INSTALLATION OF THE PAINTINGS

INSTALLING 2/2 THE 72 PAINTINGS ON 8 PANELS FOR THE EXHIBITION (80 m2) > 4 PILLARS OF THE SKY 2/2 | 09.26.2019

---
INSTALLING 1/2 THE 72 PAINTINGS ON 8 PANELS FOR THE EXHIBITION (80 m2) > 4 PILLARS OF THE SKY 1/2 | 09.11.2019

---
PACKING UP 72 PAINTINGS FOR THE EXHIBITION | 28.08.2019

---
PRESS INTERVIEWS

---
PRESS ARTICLES



ARTICLE IN THE BVV BESANÇON MAGAZINE : SERGENT PAINTER | no 427 DECEMBER 2019-JANUARY 2020

---


EXHIBITION AT THE BESANÇON FINE ARTS MUSEUM "The Four Pillars of the Sky"
Article by Thomas Comte for La presse Bisontine, December 2019
---

Jean-Pierre Sergent signe les quatre piliers du ciel

Article by Catherine Chaillet for L'Est Républicain, Besançon, November 4 2019


---
VISUALS OF THE EXHIBITED ART WOKS: THE EIGHT WALLS
---
VISUALS OF THE EXHIBITED ART WOKS: THE SEVENTY-TWO PAINTINGS
---
THE PACKING OF THE ART WORKS IN THE STUDIO
---
PHOTOS OF THE INSTALLATION OF WOOD PANELS & THE ART WORKS (11, 12, 26 & 27 September 2019)

With the help of the museum technicians, Jean-François Delamain, most photos are by Christine Chatelet & Lionel Georges. Opening night by Jean-François Delamain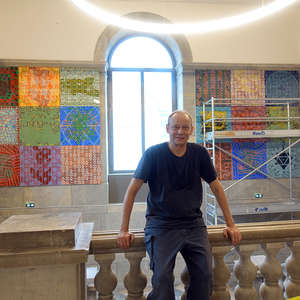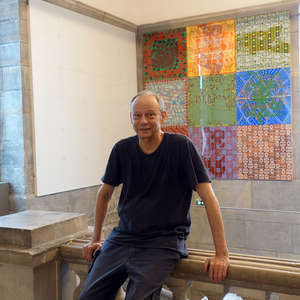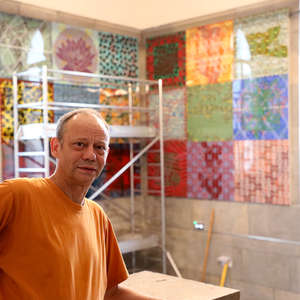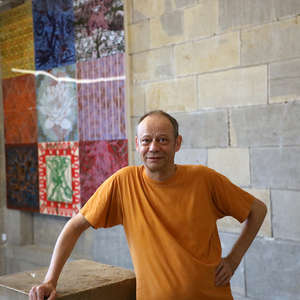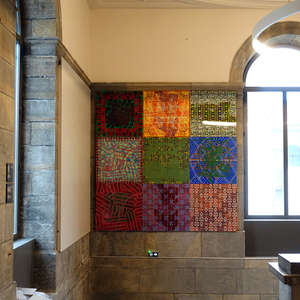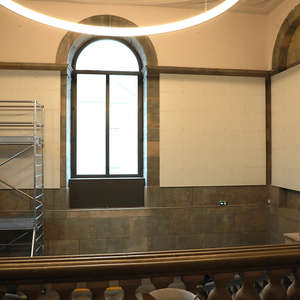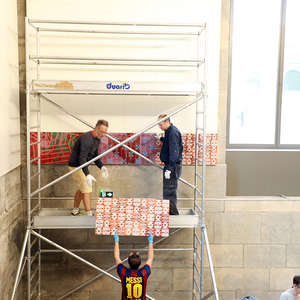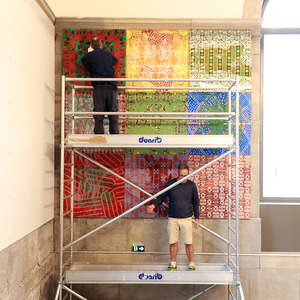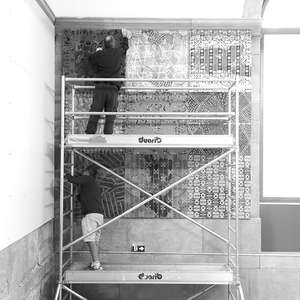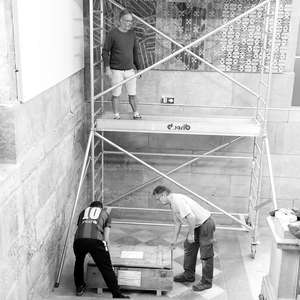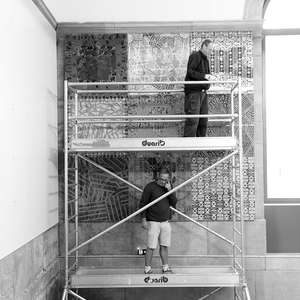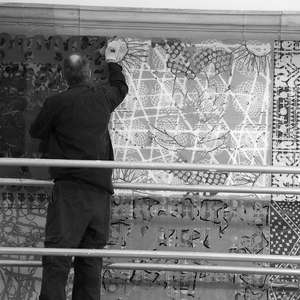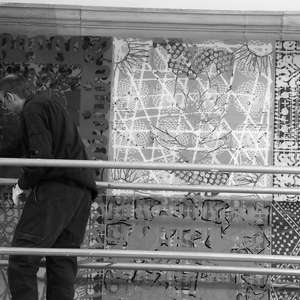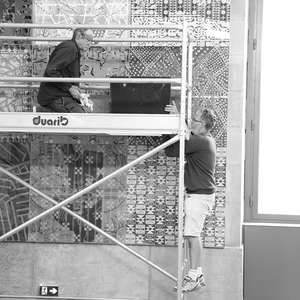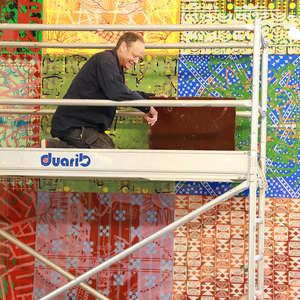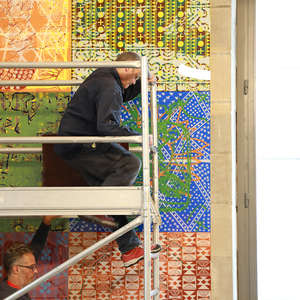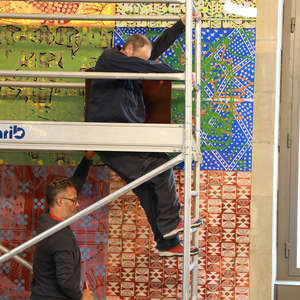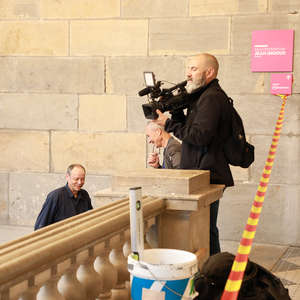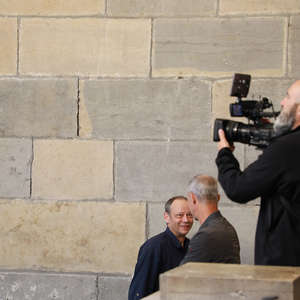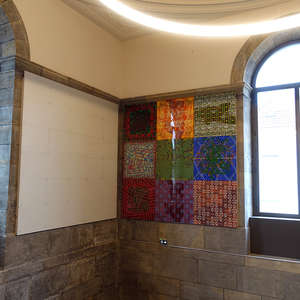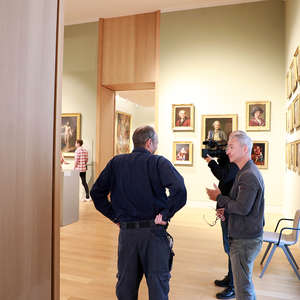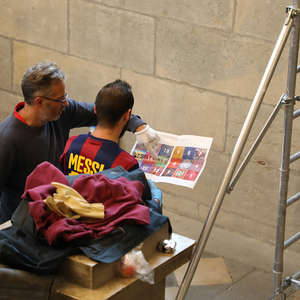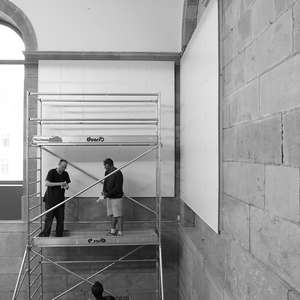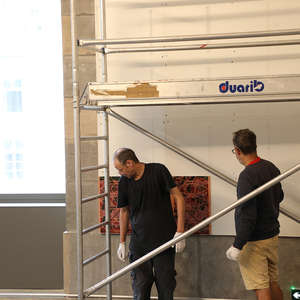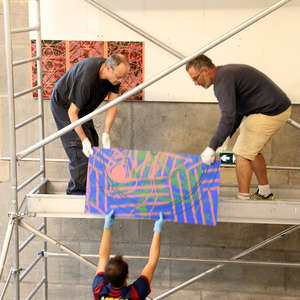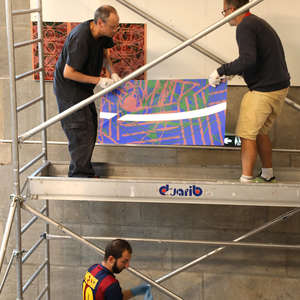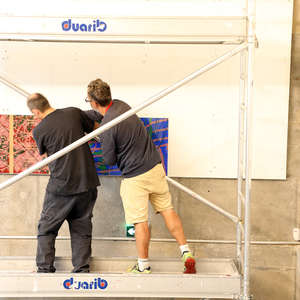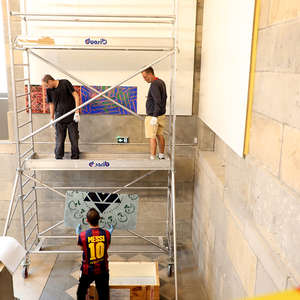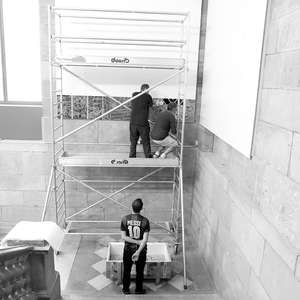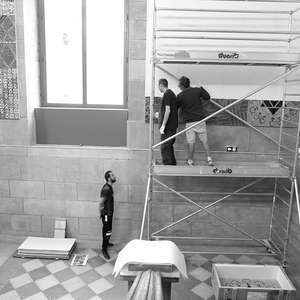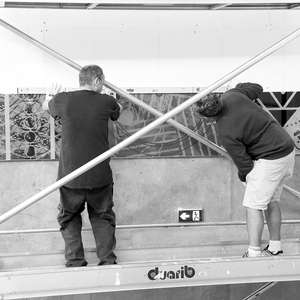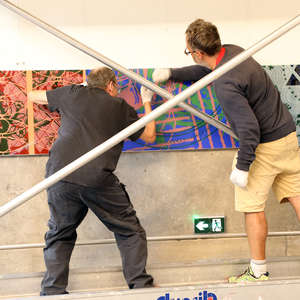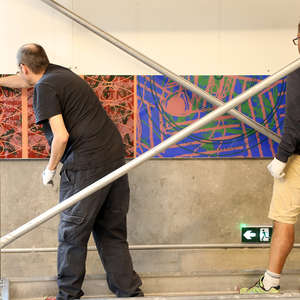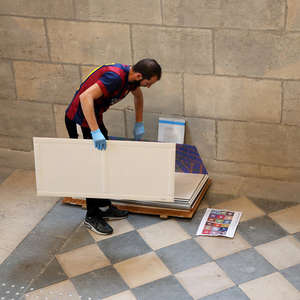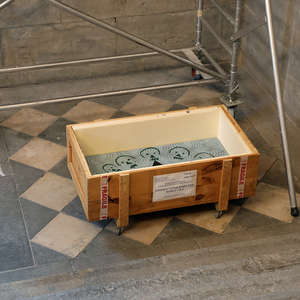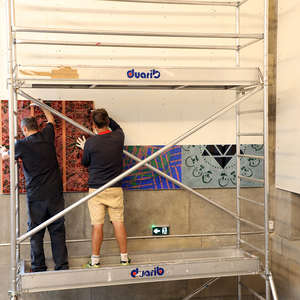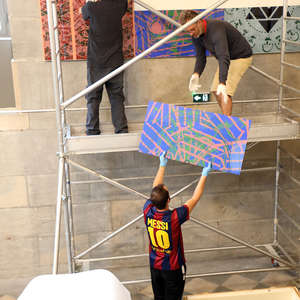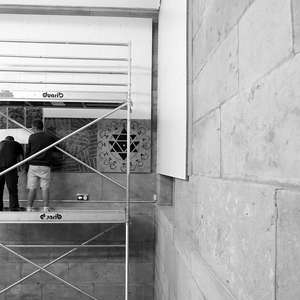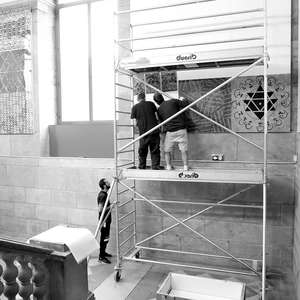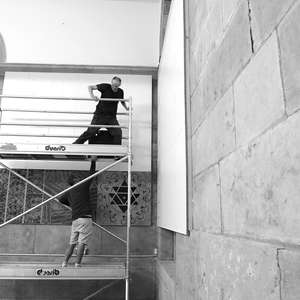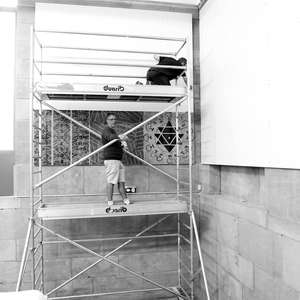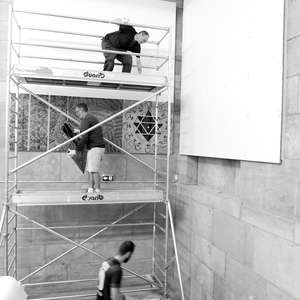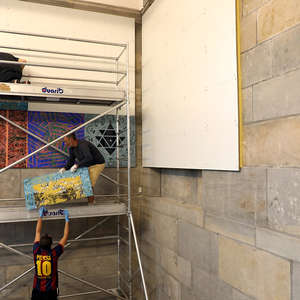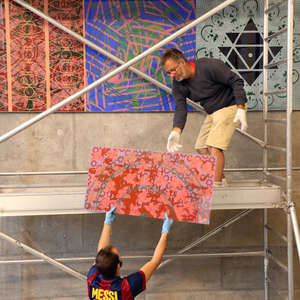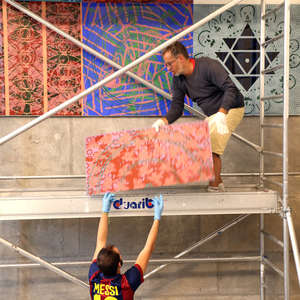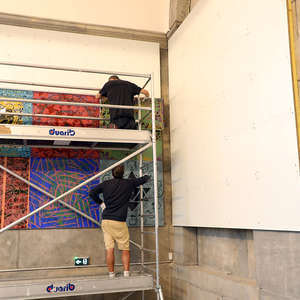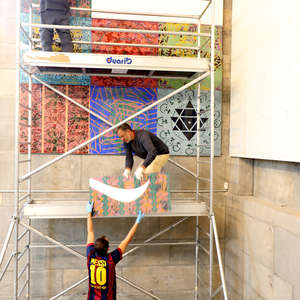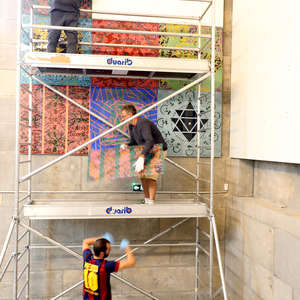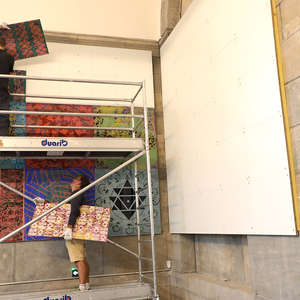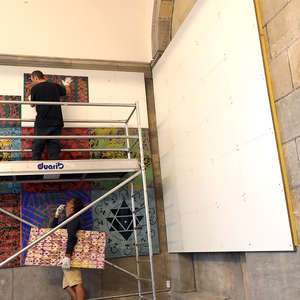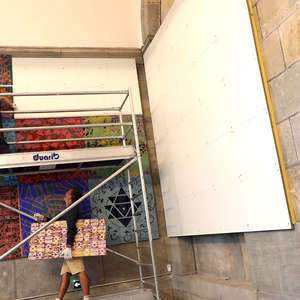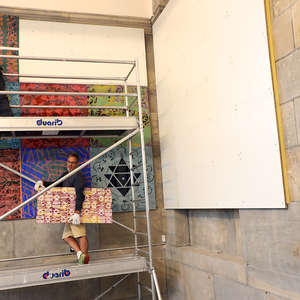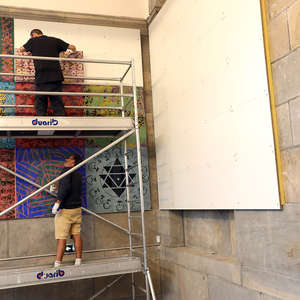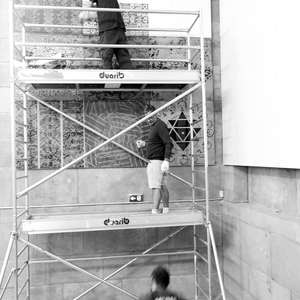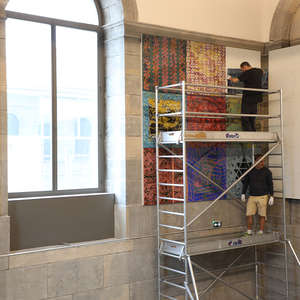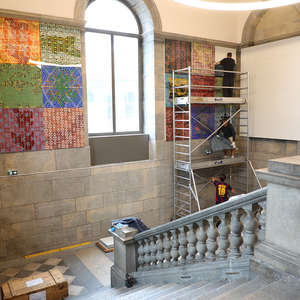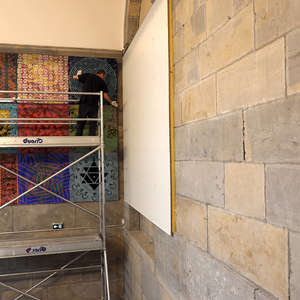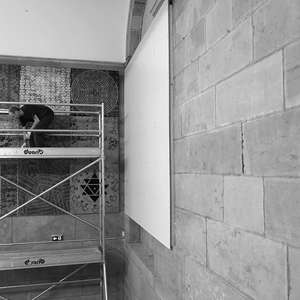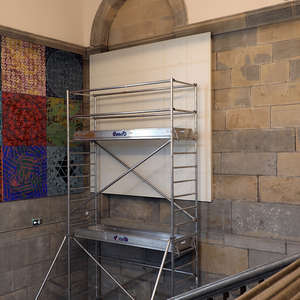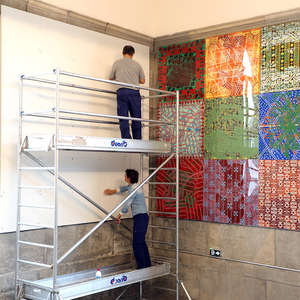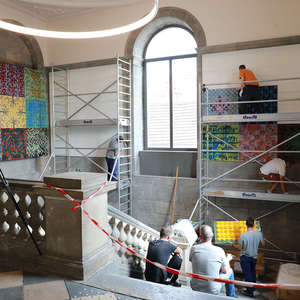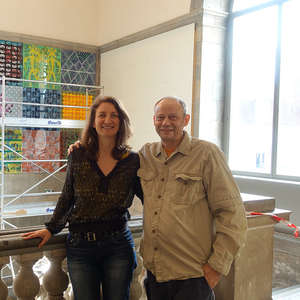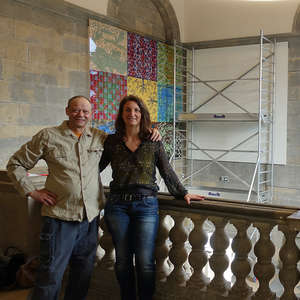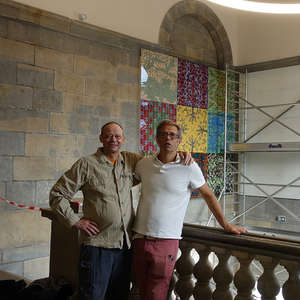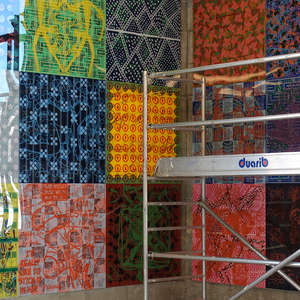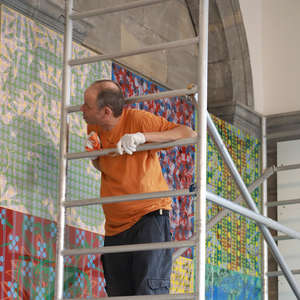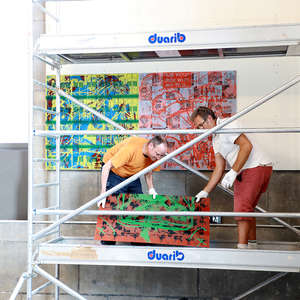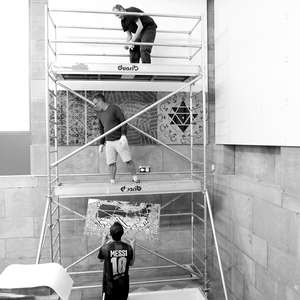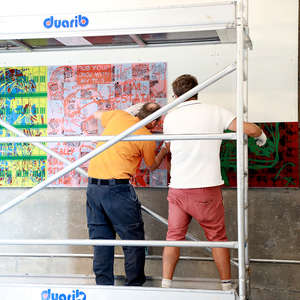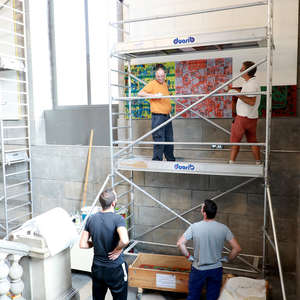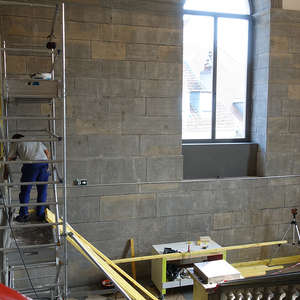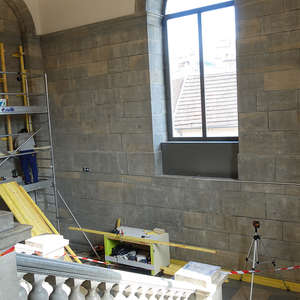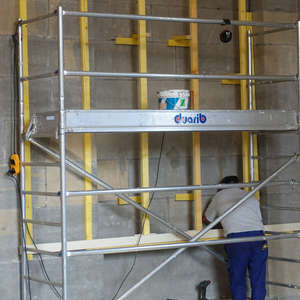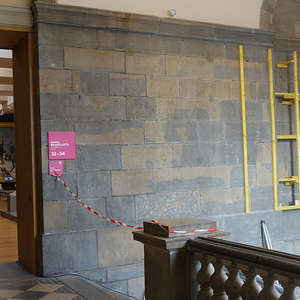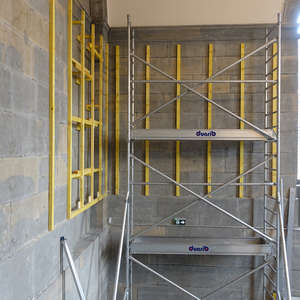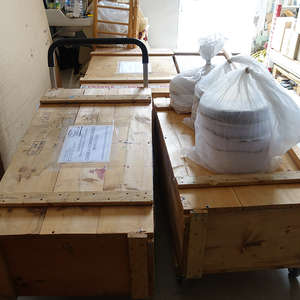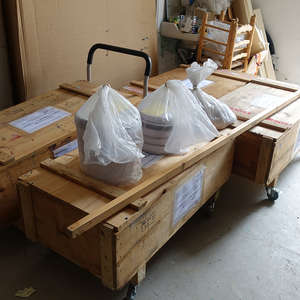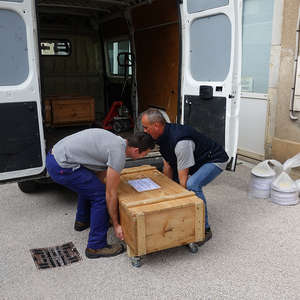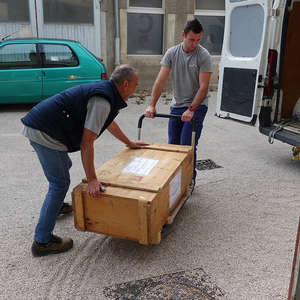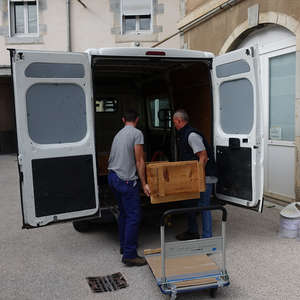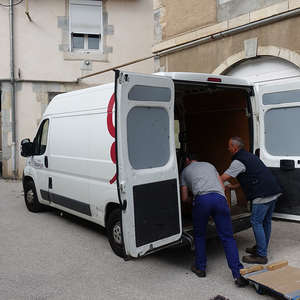 ---
THE PACKING OF THE ART WORKS IN THE STUDIO
---
PHOTOS OF THE OPENING ON 16 NOVEMBER 16TH 2019 & VISITS OF FRIENDS ETC.