Presse 2018-present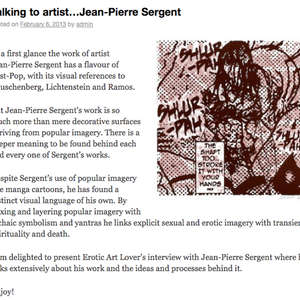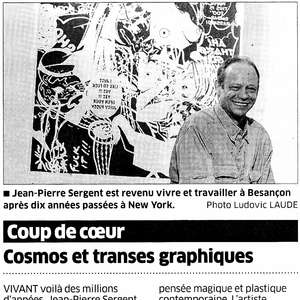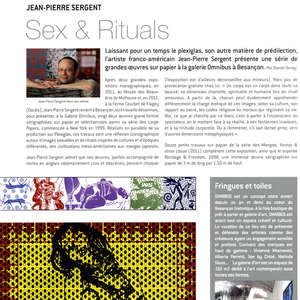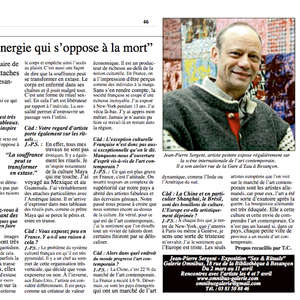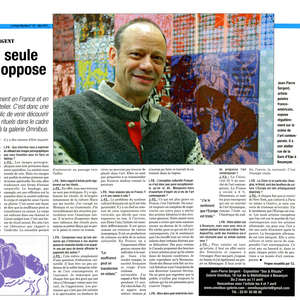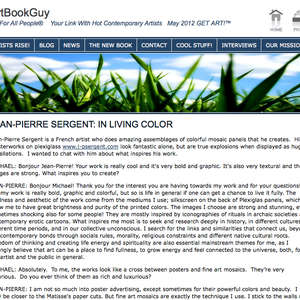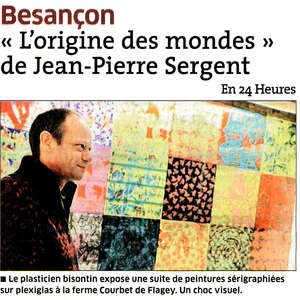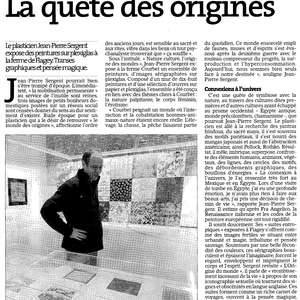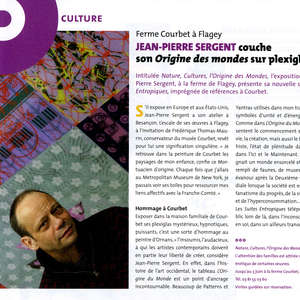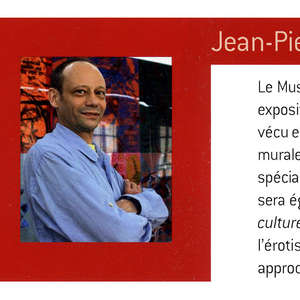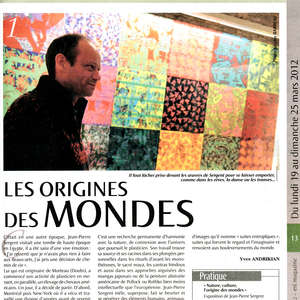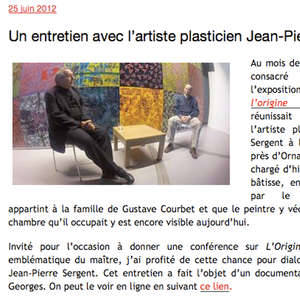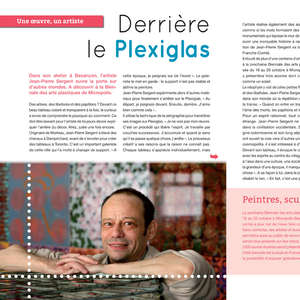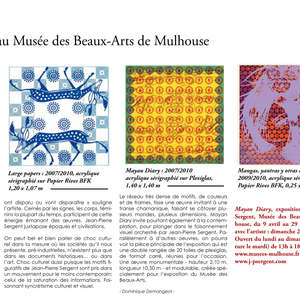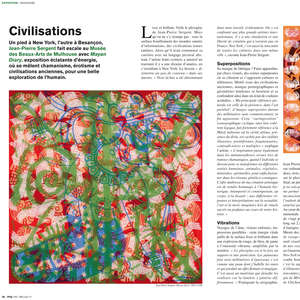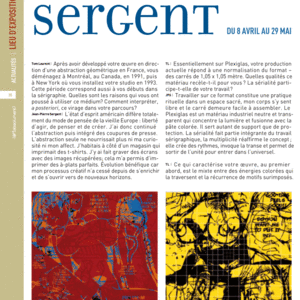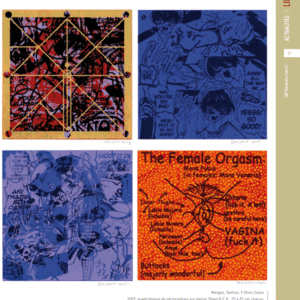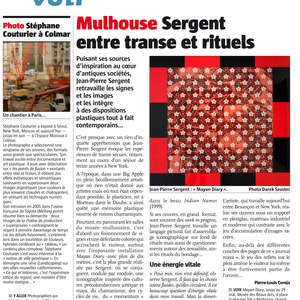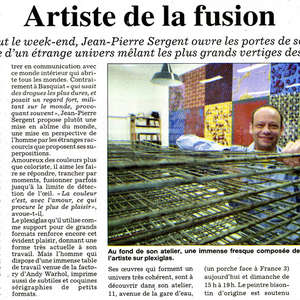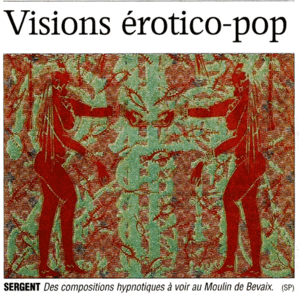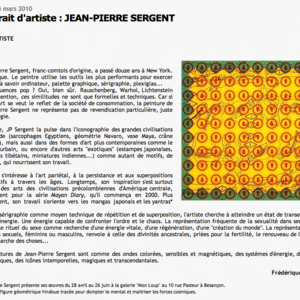 ARTICLE DANS LE BVV BESANÇON : SERGENT PAINTER | no 427 DECEMBRE 2019-JANVIER 2020




En parallèle de la grande expo La Chine rêvée de François Boucher, le musée des Beaux-arts et d'Archéologie abritera Les quatre piliers du ciel , une installation monumentale de l'artiste peintre franco-new-yorkais Jean-Pierre Sergent. 72 peintures sur plexiglas exactement, choisies parmi la série des Suites entropiques et présentées sur huit panneaux se faisant face aux quatre angles des deux escaliers principaux. Réponse colorée et envoûtante à un monde contemporain "bien triste et bien gris", ces oeuvres "parlent de mes voyages et de mes rencontres et de mon amour immodéré pour la couleur, confie l'artiste. Dans un monde qui s'auto détruit, plus de temps à perdre pour faire de l'art pour l'art, mes peintures témoignent de la vie elle même, sans détours, sans fards et sans fardeaux. La vie
est ainsi !"
Exposition jusqu'au 4 octobre 2020 au MBAA
---

EXPOSITION AU MUSÉE DES BEAUX-ARTS
"Les quatre piliers du ciel" de Jean-Pierre Sergent, par Thomas Comte pour La presse Bisontine, décembre 2019.
Le Musée des beaux-arts expose 72 œuvres de l'artiste bisontin. Un hymne à la vie et un dialogue avec les collections du musée.


En empruntant les deux grands escaliers du Musée des beaux-arts et d'archéologie de Besançon, le visiteur est accueilli au premier palier par les œuvres contemporaines de l'artiste franco-new-yorkais Jean-Pierre Sergent installé à Besançon. 72 de ses peintures sur Plexiglas au format carré ont été installées de manière à créer une fresque monumentale de 80 mètres carrés qui recouvre parfaitement les angles de chaque cage d'escalier. Pour commencer, c'est la couleur de l'ensemble qui fixe l'œil du visiteur. L'impression se confirme une fois arrivé au balcon. De là, il faut le temps de détailler "Les quatre pilier du ciel" pour apprécier la lecture inhabituelle du monde que soumet l'artiste au public.
Par sa façon de mettre en scène le corps humain dans ses tableaux, de puiser des symboles dans des civilisations anciennes comme, celle des Mayas, Jean-Pierre Sergent devient le messager d'une spiritualité dont nous avons perdu le sens profond. "Nous ayons perdu notre énergie vitale, notre lien au monde, ce qu'on appelle "la spiritualité". Or, ces peuples avaient ce lien direct avec les éléments. Mes peintures témoignent de la vie elle-même, sans détours, sans fards et sans fardeaux" explique Jean-Pierre Sergent, heureux d'exposer au Musée des beaux-arts à la demande de Nicolas Surlapierre, son directeur. Pour ce dernier, les œuvres de Jean-Pierre Sergent ont toute leur place. "Le musée n'a pas vocation à faire de l'art contemporain. Cependant, j'aime inviter des artistes dont le travail dialogue avec nos collections. Cela permet de les regarder autrement" explique-t-il. Ses œuvres font écho à la collection égyptienne et aux peaux peintes amérindiennes que conserve l'établissement.
En regardant "Les quatre piliers du ciel" dans les détails, on découvre des scènes érotiques, des rites initiatiques, des symboles. Les tableaux expriment le chamanisme, l'extase, la transe. "Beaucoup de gens n'ont plus de plaisir, plus de désir. On ne peut pas dissocier la mort, la sexualité… toutes les sociétés anciennes comme les Hindous l'avait compris. Or, notre pensée ne fonctionne désormais que par dissociation" constate Jean-Pierre Sergent. En cela, ses sérigraphies nous invitent à réfléchir sur ce que nous sommes.
---
Article de Catherine Chaillet pour l'Est Républicain, Besançon le 4 novembre 2019
En quatre piliers autour du double escalier central du musée des Beaux-Arts domine l'œuvre de l'artiste plasticien Jean.pierre Sergent. 72 panneaux en couleurs symboles. Une reconnaissance de la ville pour celui qui a exposé dans le monde entier. Ode aux forces des civilisations premières.
72 panneaux de 1.05 x 1.05 m à la dimension de son corps « le nombre d'or de mon corps est 1,05. Je Fait trouvé de corps est 1,05. Je l'ai trouvé de manière organique. » Jean-Pierre Sergent utilise ce format depuis 30 ans. 72 panneaux juxtaposés au-dessus des deux escaliers majestueux du musée des Beaux-Arts et d'Archéologie (MBAA) de Besançon. ils auraient dû l'être pour l'inauguration… Ils le sont donc pour le premier anniversaire de cette spectaculaire rénovation et jusqu'en octobre 2020. 72 sérigraphies et peinture sur Plexiglas, son support de prédilection depuis qu'il a abandonné l'lsorel dont l'acidité dévore l'œuvre au fil du temps. 72 tableaux choisis parmi la série des Suites Entropiques réalisées entre 2010 et 2015, installés sur huit panneaux se faisant face, à 5 mètres de hauteur, aux quatre angles des deux escaliers principaux du musée. Une bien jolie façon de pénétrer le musée.


Jean-Pierre Sergent a attendu 15 ans avant d'être exposé dans un musée de sa région. Photo ER/Frank Lallemand

Couleurs
Un souffle de couleurs d'abord dont l'abstraction apparente brise l'austérité élégante du lieu. « Mes peintures, témoignent de la vie elle-même, sans détours, sans fards et sans fardeaux », écrit l'artiste. le regard s'attarde et le témoignage se précise. Jean-Pierre Sergent quête les rituels des civilisations premières. À travers des voyages d'abord, Mexique, Guatemala, Japon, Inde… « Tant qu'on en parle, elles ne disparaissent pas ! » Vivre une douzaine d'années à New York a façonné son rapport à l'art, à sa nécessité, alors que dans la vielle Europe « forte de son patrimoine, l'énergie a disparu sous le poids des deux guerres mondiales. Je veux voir autre chose, ce qui apporte de la joie, savoir qu'elle est possible ».
Etats de conscience
Très tôt inspiré par les travaux des chamanes et leurs transes, « qui permettent de passer d'un état de conscience à un autre, d'approcher le don d'ubiquité », il n'a retenu là que les interprétations les plus softs de ces expériences orgasmiques. La solennité du lieu l'a contraint peut-être. Mais les rituels qu'il retient en symboles ont toujours le même objet, ils rythment la vie jusqu'à la mort et à travers ce cheminement offrent d'accéder à l'énergie vitale, dans toutes ses dispositions tant sexuelles que spirituelles. Cet art multifacettes, Jean-Pierre Sergent le déploie dans ses rêves, ses pensées et ses réalités comme un art nomade et saltimbanque, dit-il. Le nomadisme trouve ici lieu à s'installer durablement.
Vernissage de l'exposition le samedi 16 novembre à 19 h lors du 1er anniversaire de la réouverture du MBAA.
---
06 novembre 2019 | Lugano | Suisse
Le magazine s'appelle Quid Magazine, car il examine le processus artistique. Pour toi, quelle est l'étincelle qui rend une œuvre unique?
Je pense, que ce qui rend une œuvre unique, c'est quand elle est habitée par une présence, une âme, qui interpelle le spectateur et l'amène dans un ailleurs, auquel, de par son histoire et sa culture, il n'a pas ou plus accès. C'est une peu une œuvre qui intercéderait entre la réalité et d'autres mondes plus enfouis, oubliés ou trahis par la pensée unique d'une époque donnée. On peut penser aux Demoiselles d'Avignon de Picasso qui réintègre le monde du désir et de la magie "primaire" ou première africaine, dans une société s'industrialisant, se rationalisant et perdant de plus en plus son émerveillement pour le monde.
Quelle est ta poétique générale?
Je recherche toujours dans mon travail à acquérir une poésie, ou des poésies, provenant directement des cultures premières, libres et non spoliées des pensées structurelles, matérialistes et monothéistes. J'aime par exemple l'énergie formidable se dégageant des artefacts Mayas, Moche, Amérindiens, mais également les peintures des grottes préhistoriques européennes ou australiennes. Car ces "poésies", ces réalités autres ou ces énergies, m'entraînent dans des dimensions ou la sexualité, la mort, la joie et le désir de vivre et de communiquer avec la nature, sont beaucoup plus présents que dans l'art occidental en apportant aussi une dimension cosmique et spirituelle essentielle !
Projets futurs?
Je reviens du Wopart de Lugano, où nous nous sommes rencontrés ; je participe cette semaine à une Biennale à Besançon, ville où je vis aujourd'hui (après avoir vécu et travaillé plus de 10 ans à New York) et j'y ai également une grande exposition au musée des Beaux-Arts comprenant 8 grandes installations murales de 3.15 x 3.15 m, d'une dimension totale de 80 m2.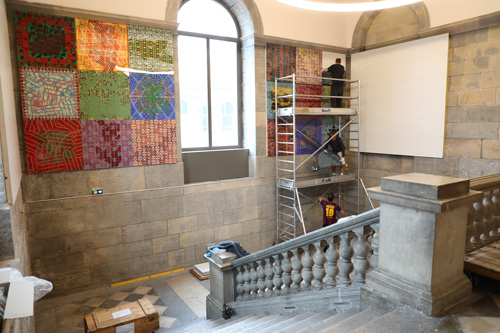 Jean-Pierre Sergent installant Les quatre piliers du ciel, Musée des beaux-arts de Besançon, photo de Christine Chatelet, septembre 2019
Expliques-nous comment naît une œuvre d'art, peut-être un chef-d'œuvre, cette peinture qui se dresse au milieu des autres.
Il n'est pas dans ma nature de chercher à réaliser un chef-d'œuvre, c'est un peu à l'opposé de ma démarche artistique. Car je travail de manière sérielle et presque rituelle : je récupère, choisi, retravaille et sérigraphie des images populaires ou sacrées (pour certaine personnes et dans certaines cultures), que j'ajoute, à la manière d'une recette de cuisine ou d'un paysage géographique, en peignant des strates se superposant jusqu'à satisfaction. J'arrête cette accumulation quand il se passe quelque chose dans l'œuvre. Cela peut-être une énergie, un rapport de couleur, une lumière, une densité, une sensation, un touché. Mais je ne cours pas après cette idée d'œuvre solitaire rayonnante au milieu de tant d'autres. Mes œuvres s'inscrivent dans un ensemble et dans la continuité du temps profond de mon travail. En particulier, mes grandes installations murales de peintures sur Plexiglas qui sont composées d'une vingtaine de peintures accrochées et collées ensemble pour former une œuvre multiple et Kaléidoscopique de grande dimension.
Qu'est-ce que l'art contemporain pour toi?
L'art contemporain crée assez paradoxalement aujourd'hui, une triste contrainte et une grande liberté. Une liberté, car chaque artiste semble libre de créer ses œuvres à sa manière, avec son style, avec les matériaux qui lui conviennent et de pouvoir parler des sujets qui l'intéressent, tout du moins en Occident, ou dans certains Pays "libres" et étant en paix. Par contre, le marché inféré, consubstantiel et fusionnel à l'art contemporain impose de fait : des centaines de contraintes, des misères innombrables et des solitudes profondes aux artistes ne pouvant faire partie de ce marché, des happy few élus ! Car l'art contemporain montré dans les foires et les musées, dépend de plus en plus de ce marché de l'Art. Qui est contrôlé et régit par une centaine de galeristes et de collectionneurs internationaux, vendant de l'art comme un véritable produit de consommation de luxe. Bien malheureusement de nombreux artistes sont démunis et totalement incapables d'entrer dans ce dit marché. On pourrait donc, aujourd'hui nommé sans peine l'Art de produit post-culturel, hégémonique… N'ayant plus que pour seul but de démultiplier les valeurs des prix de vente exorbitants des œuvres ! Par ce fait, les artistes ne pouvant pas entrer dans le marché, n'ont plus aucune existence légale, humaine et artistique possible. C'est donc le prix fort à payer à cette pensée capitaliste mondialisée, à cette société du spectacle ininterrompu, où l'argent est devenue notre seule référence, notre seule valeur, notre seul credo et même… notre seule beauté !
Quel est ton Maître?
Je n'ai pas vraiment de Maître au sens universitaire et scolaire du terme. J'ai eu la chance, au cours de mes voyages et de mes nombreuses visites dans les musées, d'être particulièrement touché par certaines œuvres importantes et je suis particulièrement intrigué par toutes les œuvres (ou plutôt les objets rituels) réalisés par les artistes chamans, les intercesseurs des dieux et des esprits. Je me permets de copier ici une partie de la liste des œuvres souhaitées dans mon Musée imaginaire, extraites de mes entretiens filmés avec mon ami Thierry Savatier, historien d'art : "Oui, sans doute un Shunga japonais érotique et au hasard comme cela : une fresque murale égyptienne, un vase maya, je trouve qu'ils sont magnifiques, les couleurs sont magnifiques ! Une statue Aztèque, ah oui, ça a une grande énergie ! Un Vermeer, un Giotto, un Rembrandt : l'homme à l'escalier (Philosophe en méditation) qui est au Louvre, j'aime beaucoup ce tableau ; la Vue de Tolède d'El Greco, sans doute un papier découpé de Matisse. Et puis je ne sais pas, les masques chamaniques de la Côte Ouest des États-Unis, oui ! Tous les masques chamaniques… Ah oui, je suis subjugué par la beauté et par la grandeur de ses œuvres… D'ailleurs André Breton les collectionnait ! Ce sont des masques d'une beauté et d'une intelligence incroyable, oui ! Et puis quelques dessins d'Artaud, les bleus d'Yves Klein, enfin bon c'est énorme ce que j'aime (j'ai oublié Frida Kahlo)… Et puis bien sûr les dessins des grottes préhistoriques !" Voilà, il n'y a pas vraiment de Maîtres… grands ou petits, mais plutôt, un ensemble hétéroclite d'œuvres, réalisées par des être humains comme moi, que j'ai eu la chance et le grand bonheur de pouvoir rencontrer lors de mes nombreux périples initiateurs et toutes mes recherches artistiques et spirituelles initiatiques.
---
Le principe de la sérigraphie consiste à appliquer des stencils sur une toile, en soie ou en un matériau synthétique ou métallique, de telle sorte que l'encre ne puisse pas traverser certaines parties en pénétrant dans le support du reste de l'écran, imprimant ainsi une image sur du papier placé en dessous.
Jean-Pierre Sergent est un artiste peintre originaire de Morteau, France. Dirigeant aujourd'hui un atelier à Besançon, il travaille principalement avec la technique de la sérigraphie. Des assistants l'aident au jour le jour pour emballer les œuvres, les accrocher dans les galeries ou les musées et pour prendre des photos et des vidéos lorsqu'il travaille dans l'atelier.
Ce professionnel excelle en tant qu'artiste peintre de formation et a longtemps travaillé avec des techniques anciennes de peinture. Etre artiste, pour lui, c'est à la fois un métier et une philosophie de vie. C'est une manière personnelle de voir le monde et de l'enrichir. C'est le meilleur moyen de témoigner et de montrer au public la beauté des mondes et des cultures disparaissant devant nos yeux. D'après lui, il est de son devoir de parler des choses qui lui semblent belles, utiles, et permettant la régénération de la pensée et des énergies vitales du monde qui nous entourent.
Jean Pierre, quelle est votre histoire préférée ?
« Des milliers de fois auparavant
J'ai vécu dans la matrice d'une mère
J'ai pris plaisir à une grande variété de nourritures
Et je fus allaité à tant de seins maternels
Je naissais et mourais de nouveau
Et continuellement, je renaissais une nouvelle fois. » Garbha #4, 108 Upanishads traduit par Martine Buttex
J'aime beaucoup lire et relire les Upanishads, livre de sagesse hindoue et universel, composé environ huit cents ans avant J.-C.. C'est un des plus anciens livres de l'humanité, avec l'épopée de Gilgamesh et le livre des morts égyptiens. Ce passage nous indique, que, contrairement à la pensée matérialiste, athée et rationaliste occidentale, d'autres modes de pensée, d'autres cultures, ce sont émerveillés et s'émerveillent encore de la vie et de ses ramifications spirituelles et cosmiques, inscrites dans des cycles non linéaires et revenant de manière récurrente en se répétant à l'infini. Donnant ainsi à la vie, un espoir et une dimension spirituelle plus dense, plus intenses et plus vibrants que nos méprisables et misérables petites espérances matérialistes bourgeoises tragiques et angoissées !
Avec quel type de personne aimez-vous le plus travailler ? Pour quelles raisons ?
J'aime travailler avec des gens calmes, sereins, patients, attentifs et ayant une grande sensibilité envers la beauté et l'art, ainsi qu'un grand respect du matériau. Car la manipulation d'œuvres d'art requiert beaucoup de précautions, d'abnégation, d'oublis de son égo et beaucoup d'attention pour se mettre à son service, ce n'est pas toujours évident.
J'avais une amie japonaise, Mayumi, avec laquelle j'ai réalisé un grand mur de 3.15 par 6.30 mètres en trois semaines et lorsque l'on découpait les grands rouleaux de papier, elle me disait : « Le papier ne nous écoute pas aujourd'hui ! » Car les vieux rouleaux venus de New York étaient très secs, serrés en arc de cercle et très, très difficiles à remettre à plat ! J'aime beaucoup cette manière de penser les choses comme étant vivantes et animées. Le monde autour de nous est animé et tout est vivant.
« Pourquoi avoir fait le choix de travailler seul ? »
Je pense principalement que l'artiste doit lui-même réaliser ses œuvres afin de leur donner un style, une vie, une âme. Il est inconcevable, pour moi, de faire réaliser des œuvres industriellement, sauf bien sûr pour la réalisation de très grands formats de dimension monumentale par exemple : 3 x 1.50 m, que je ne peux pas imprimer à l'atelier avec ma table imprimante. Car, afin que l'art et la peinture soient vivants et possèdent cette âme, toutes les étapes du travail sont importantes et en particulier ce moment spécial où je choisis et mélange les couleurs. À ce moment précis, cet instant T, je prends une décision définitive et irrévocable. Car je travaille en sérigraphiant mes images directement au revers des plaques de Plexiglas et cette couche apparaitra définitivement au travers du panneau et ne peut plus être modifiée ni effacée.
Un grand merci à Jean-Pierre Sergent qui nous a donné quelques informations sur son activité en tant qu'artiste peintre dans le domaine de la sérigraphie. Si vous avez aimé cet article et que vous souhaitez en savoir plus, n'hésitez pas à faire un tour sur son site j-psergent.com.
---


Entretien avec Tulika Bahadur pour le magazine On Art And Aesthetic
27 février 2018 | Londres | Royaume-Uni & Australie | texte en anglais seulement | Télécharger l'article

Born in Morteau, France in 1958, French-American artist Jean–Pierre Sergent is known for work that explores the subconscious, fuses the stylistic elements of different civilisations to reveal timeless and universal truths about the human condition, and often recycles seemingly trashy popular imagery into something more epic.
I had a long discussion with him this month—on France, the role of rites and rituals, capitalism and much more. He writes from his studio in Besançon, eastern France.


When I encountered your art, the adjectives that came to my mind were "overarching", "all-consuming", also "elemental" and "fundamental". I identified both a width and a depth in your expression. Width because you incorporate motifs from different cultures—Japanese, Indian, Mayan, Greek—and depth because you are constantly trying to inquire into and reveal the things that matter the most; stuff that stays, endures, gives meaning to existence—desire, beauty, birth, connection, merriment. The texture of your work, I would say, is passionately anthropological. When and how did you develop this fascination with core universal human issues? Does being French have anything to do with it?
Well, it's always yes and no! Being raised in France was a matter of chance. It is really a rich country, where a lot of different cultures have flourished and merged. We can see it even today with waves of migrants coming from Africa and the Middle East, being stuck and blocked on their way. This has been happening since prehistoric times when the Neanderthal and Cro-Magnon men met and probably interconnected.
The mix of different cultures, a bit like the New York of today, but over a longer period of time, has given me access to a never-ending history of art and thought—the painted caves of Chauvet (35,000 BP), the traditions of the Gallic tribes, the Gothic cathedrals, Picasso, Matisse, Rodin, Voltaire, Sade, Rimbaud, Baudelaire, Claude Lévi-Strauss, Jean Malaurie, etc. At one point, all this French and European culture could be really overwhelming. But to some extent, yes, it opened my mind and gave me a large overview, a global picture.
But I would also say that I have a strong sensitivity and compassion towards other human beings, their living conditions—such as birth, suffering, desire, pleasure, death—and their rituals and gestures—religions, philosophies, architecture, literature, spiritual practices. This interest is something quite common, I share it with most artists.
You've lived across France, Canada (Montréal) and the US (New York). How have these three locations influenced your vision?
One thing I would like to say about my country, is that, unfortunately, the contemporary art scene here, is totally poor and boring. It's only intellectual, conceptual, rationalistic, science-driven and spiritless. For me, there is in this art production, a total lack of interest towards human desires. It looks like a flat brain wave, a grey world! This unbearable situation started more or less just after World War II. Art only became "l'art pour l'art", just an reflection on art history and art processes. Nothing really to enjoy about being alive, it's at the exact opposite of the so-called "art de vivre français". I think, this is because French artists born between the two wars, were speechless after all the killings and hecatombs committed during that time.
The "funny thing" is that on the opposite side, our neighbours the German and English artists, from the same time period, have done much better. Think of Joseph Beuys, Anselm Kiefer, Gerhard Richter, Georg Baselitz, or even David Hockney, Francis Bacon! I don't think that anybody in the world today, could name any living French artist. Am I wrong? They will name Picasso (Spanish born, to whom the French government even denied citizenship) or Matisse, Monet or Gauguin, who died long ago! As some of my American artist friends have said to me: the Frenchies have had their time in art! The only thing that I really enjoy about living in France today is nature.
In Montréal, I found a "new society", one that was more international, tolerant and respectful of other people's identities and beliefs. I also loved the immensity of space, sky and place. I started experimenting with different approaches. As for New York, it gave me some of the biggest emotional, artistic, energetic, aesthetic, sexual and human electro-shocks of my life! The Meso-American references in my work are a result of this period. I also got a chance to discover in the museums and through reading, what we call "Primitif Art" or "Art premier" or "Art racine", from the North American Indian tribes and from all around the world. I discovered Aztec and Mayan artefacts and architecture during some personal trips with my wife Olga (Colombian born) to Mexico and Guatemala. The strong spiritual-magical-cosmical energies that I encountered have converged in my artwork in my large wall installations on Plexiglas titled "Mayan Diary" (1999-2015).
You frequently use repetitive patterns and forms—concentric circles, parallel lines, rows of tiles, sets of triangles. I immediately linked this to rituals—as they are all about doing something again and again and again. So, does the visual component of duplication and recurrence symbolise the nature of rites and ceremonies?
Yes, you are absolutely right! I use patterns as a way of showing a trance-like state and experience. Painting to me is a ritualistic practice. I work with highly symbolic images from pre-industrial cultures that used those designs in order to connect with their gods or spirits; or just for meditation like Indian yantra (with the Bindu point, sort of Big Bang starting point) or Tibetan Mandala to connect with the inner-self and the cosmos. Also to honour some kind of genetical-ancestral connection or create social differentiation (tattoos). Ultimately, to get some primary connection to the essence of life itself. As life keeps repeating through nature, vegetation, animals and mankind. I like my work process to be serial and repetitive with variations of small colours, similar to the Australian Aboriginal Didgeridoo sounds or the Melanesian Polyphonic voice songs.
What strikes me most nowadays is the disappearance of rituals in our developed capitalist countries. With the exception of sports, the only ritual that seems to have survived is marriage. But there aren't many prayers or dances to help the soul of the dead reaching to the other world (guiding the soul during its long trip, as it has been done since the appearance of mankind), or even to welcome or "baptise" a new born baby. This disappearance is not bad in itself, but it's not able to reinforce the socials links between people, and as a result, people today are more and more isolated and lonely and are missing all the joy of living and sharing life events together.
In your Culture Trip interview, you say something very important while explaining your work:
First, we have to put things in perspective: the art world and, to an extent, the world as a whole, is no longer a post-industrial, postmodern, or post-religious one, but I think it has become today a post-cultural world. In a few words, all that used to be known by mankind was given and transmitted to us by the cultures we all belonged to and transmitted by the ancestral teachings & traditions. Now all we need to know in order to survive will be used by contemporary computers in the purpose of making money and buying consumer goods, being 'happy' without any concern for our surrounding social environment. So the cultural links so important at one time are no more necessary and become just affective ones, that you can choose to use them or not. And of course as people are lazy, they prefer to use the channels of technology instead of the cultural ones, which take much more time to understand and to practise, but which can ground us deeper, with the help of poetry, painting, literature, music, dance, theatre, and spiritual practices, to all human beings, the earth, and the universe.
I have always believed in the value of ancestral teachings and traditions—as long as they are open to scrutiny, criticism and reform. This "post-cultural" situation that you describe indeed troubles me a lot. Cultural links, community ties are now dispensable. What's more, the human being has been reduced to an audio-visual animal whose primary purpose is to consume goods and services, and whose personal and public data is sold for the strategic promotion of even more goods and services. It's a vicious cycle.
What, according to you, should/could an artist do in this era of rampant technological invasion?
Being an artist is a lifelong process, it doesn't come easily, it's harsh, takes a lot of courage and commitment. In that way, most artists are on the edge of mainstream consumerist beliefs and hurries. It may take more than twenty years of practice, after any art school, to really understand what art as a whole is about.
I think that the mission of an artist, or everybody for that matter, could be related to these words of Henry Miller: "The human mission on Earth is to remember, to remember, to remember." So an artist could show, name and be the witness of things that are disappearing so fast in front of us. Today, so many cultures, so many spoken languages, so much music, so many love songs, so many animal species, so many forests and rivers have disappeared or been polluted. This has been happening especially since the beginning of the last century, or even from the time of Christopher Columbus. We can name it cultural genocide or earth matricide. Another issue that needs to be brought into attention in art are the freedoms that are denied to women—sexual, aesthetic, intellectual. The mutilations that their bodies suffer in so-called "traditional" societies, the strict dress codes that they must adhere to, the lack of access to good education, etc.
Based on Japanese manga sexual cartoons, Hindu Yantra meditation drawings and genetic patterns from archaic cultures, Entropic Suites (2011-present) is an incredibly rich series. You also mention the Upanishads as inspiration. Tell us more about the impact they have had on you…
It took me over two years to finish reading the 108 Upanishads. It has raised my level of consciousness. Like in Garbha #4:
Thousands of times before / I have lived in a mother's womb / I took pleasure eating numerous kind of foods / And I have been suckling on so many mother's breasts / I have been born and been dead again / And endlessly, I came to be born again.
This feeling of being alive so many times and coming back to life so many times and dying so many times and having sexual intercourse so many times, isn't it something we all have? It reminds me of a quotation by Picasso from André Malraux's "Le miroir des Limbes", wherein he relates a meeting with him while talking about the Indian concept of reincarnation. Picasso said: "Do you know what I am thinking sometimes? It's funny: I am a really superstitious guy. I do have the feeling that it is always the same Little Fellow. Since prehistoric time, he has been coming back, like the wandering Jew. Your fellow Indians, do they believe that painters are reincarnated into painters?" At another part of this interview he said: "That is what needs to be done. We need to paint a painting agelessly. We need to kill contemporary art. In order to create a new one."
That brings me directly to this other chapter of the Upanishad, which I specially enjoy and respect:
That which is Immensity is felicity, there is no felicity in Exiguity; Immensity alone is felicity; Immensity therefore is worthy of enquiry. That Immensity, O Lord, (said Nārada) is sought by me. (In Chandogya XXXIII)
This is exactly what I am trying to do with my art, getting away from the finite to enter the global and endless world of the infinite, the One. In order to do it, in my Entropic Suites series, I assemble numerous paintings on the wall, with different colour variations, different subject matters and energies. It then allows me to get rid of the simple day to day life experience and enter into a sacred unlimited and infinite space.
At this stage of your career, you are mostly influenced by art from the time when artists were anonymous, as in prehistoric cave paintings, mural paintings from the temples and tombs in ancient Egypt, Mexico or India. What I find interesting here is that art seems like a collective, social enterprise and not "one" pursuit among many that just a "select few members" must engage in. What do you think our contemporary world could learn from the ancient model of creativity?
Yes, one of my major aesthetic shocks happened when I entered, with my granddad Maurice and my sister Marie-Paule, into the tomb of Nefertari, the wife of Ramses II at the Valley of the Queens in Egypt. Of course, it was a collective realisation that was completed by numerous architects, sculptors and painters.
A few reflections on historical and prehistoric artists: some of them were well known for their talents like the Greeks sculptors Praxiteles and Pygmalion. Also Mayan vase painters named themselves its't (artist-sage). Nevertheless, we can say that the more traditional the society, the less individualistic was the artist. During the Renaissance, the artist and his ego began to be personified, and he started to sign his paintings.
Now art has gone from an artisanal state to an industrial one. It has lost his soul and became just another common trading product. This is certainly due to the secularisation of our contemporaries societies. You can share the experience of the sacred within a social group, but luckily, you cannot share the experience of being a millionaire artist with poor people. Who really cares about a Jeff Koons puppy sold for millions? Absolutely nobody except for a few art aficionados. Not to mention that we are living in a time when most people can't afford to pay for their rent or food?
But I still think as creators, we can boycott and bypass the system with social networks like Facebook and LinkedIn. We can try, at our own level, to reconnect with the collective mind and subconscious, in order to recreate art that could touch the viewer deep inside, at the core of his soul!
Your work, you write, delves into the subconscious. Are you an avid reader of psychology?
Not really, I am not so interested in reading books about psychology or psychoanalysis! Of course, I have read a few books of Freud (specially Civilisation and Its Discontents and Totem and Taboo) but, as an artist I prefer to read C.G. Jung who had a better understanding of the function of the image and analysed Asian traditions and philosophy pretty deeply. In order to understand unchanging human nature, I like to read a lot of travellers, authors like: Ovid (Metamorphoses), Homer (The Iliad), Ibn Battuta, Marco Polo, James Cook and all the chroniclers of the Spanish conquests like friars Bernardino de Sahagún, Diego Duran and Bartolomé de las Casas.
One of your objectives is to give the viewer an immersive trance-like moment in a world of pleasures and colours, from which conflicts and harshness are not totally absent, but which overall remains without pain and suffering. This wish is a result of your having felt the unpleasantness of asthma as a child. What are your thoughts on the relationship between pain/suffering and creativity/imagination?
Well, to tell you the truth, having suffered from serious asthma attacks at a really young age and having often had the feeling that I was on the edge of dying, forced my brain to find an escape, a way out! I do believe that the brain, with dreams and the capacity of inventing different scenarios, does have a really powerful way of getting us out of terrible situations. It is well known that Marquis de Sade wrote most of his erotic books in the Bastille prison!
The female form—at times sensuous, at times rather crude—is pervasive in your portfolio, while the male figure remains absent or out of focus. What does the feminine energy/mystique mean to you?
It means everything. We are all born from a woman's body so I think we are all seeking to return to this prenatal state, the place of which is the womb. Another important thing to say is that the sounds of a female are so powerful that they drive us crazy. Even Ulysses had to be tied up and chained while hearing the languorous songs of the Sirens! My revealing images of women have something to do with a mystical and cosmological connection and experience.
There is a touch of the pop art aesthetic to many of your projects. Are there any pop artists/movements out there that you specifically appreciate?
I got silk-screening from Andy Warhol and Robert Rauschenberg. I am now silkscreening on a printing table on which some of Warhol's works have been printed. I bought it from my former boss who was a professional silkscreen printer in Long Island City. I also knew the gallery owner Leo Castelli, who discovered and promoted all pop artists.
That said, before coming to New York, I was closer to the paintings of Rothko and Newman and Pollock. But I had seen at the MOMA, the early Targets of Jasper Johns, which made a great impression on me. Firstly, I had the feeling that they were only ordinary objects (like Marcel Duchamp's Fountain of 1917), but they gave off an aura, a presence (unlike the Fountain), like every classical painting or primitive art. So it was a good surprise for me!
I was also impressed by the Rauschenberg silk-screening technique as he printed almost anything on any material you can think of, and turned it into an art piece. I liked his Rauschenberg Overseas Culture Interchange (ROCI, 1994-1991) project, as he travelled around the world, like a journalist photographing people, in order to make a political statement to defend cultures other than American. I was not so crazy about Lichtenstein's work, but once I saw his Girl with Ball at the MOMA, it also gave me this feeling of a mysterious presence. Leo Castelli had said in a 70s interview that Lichtenstein came into his gallery to present him his portfolio, with some drawings of comics, and he knew that it was art and not comics. I often think about Castelli as no gallerist nowadays will take the time to see some young artist's work. That time is definitely gone forever!
So it's true that I owe a lot to the pop art movement, especially their technique and the use of common images, even though I found their works to be a bit superficial at times!
You recently exhibited in Shenzhen, Shanghai and Taiwan. How was the Asian/Eastern experience different from the European/Western one? What is your opinion on the changing landscape of the art market?
I started to exhibit my work in China in 2016, thanks to my friend Xiwen Yang who opened his 50 Plus Contemporary Art Studio in Taiwan. He curated several solo and group exhibitions of my small works on paper, we sold a fews pieces. For now, it's too early to have a true assessment of the Chinese public's response, as we haven't presented any large paintings on Plexiglas installations yet. I really hope that Chinese people will be more open-minded than Europeans who seem really apathetic.
What are you creating right now? And what's next?
I am finishing the editing of the photos and videos we took during the summertime with my assistant Christine Chatelet, who filmed the working process in the studio. I have also to edit seven new interviews "Palabres dans l'atelier" with my philosopher friend Marie-Madeleine Varet. This spring, when the studio will get warmer, I will continue the printing of my series "Shakti-Yoni: Ecstatic Cosmic Dances". I have several shows in the works for this year, some group exhibitions with the Keller Gallery, directed by Heidi Suter, in Zurich and the WOPART (works on paper fair) in Lugano, Switzerland. Also a large wall installation in a new Contemporary Art Center in Shenyang, then a solo show in Taipei, Asia. I hope to have a chance to exhibit my work in some new countries, particularly Japan, India or England.
Any concluding thoughts?
I would like to close this interview by evoking joy. A year ago I read Jean Giono's beautiful book Joy of Man's Desiring. It is powerful and teaches us, how, even at the worst times, a man who stands up with a strong will, positive thinking and companions could regenerate the dying and worn-out social structures like families, villages, even nature! Consider this extract from another book of Giono's, Le Chant Du Monde:
Antonio thought about that path open in the Sky through which something was coming and touched the Earth. He heard deep inside of himself some desires, some wind, and some noises from the River.
Find Jean-Pierre on his website (www.j-psergent.com), Facebook (www.facebook.com/jpsergentartist) and LinkedIn profiles (www.linkedin.com/in/jsergent).


Article par Melina Piterbarg pour Aurayarte, le 1 janvier 2018 | texte en anglais & espagnol seulement | Télécharger l'article
Las imágenes del taller de Jean Pierre Sergent muestran el proceso creativo de impresión del acrílico mediante la técnica del stencil y el shablon.
The images from Jean Pierre Sergent's workshop show the creative process of acrylic printing through the technique of stencil and shablon.
Cada momento de la creación en sus obras es singular,dando lugar a nuevos fragmentos. Múltiples textos que están contenidos en una obra que es un palimpsesto.
Each moment of creation in his work is unique,bringing to ligth new fragments.Multiple texts contained in a work that is like a palimpsest.
Como un texto re escrito a lo largo del tiempoLas obras de Jean Pierre Sergent reúnen estilos, técnicas,jugando con la historia del arte y sus períodos.Las obras dentro de la obra se trasponen creando una polifonía de mágicas figuras.
As a text rewritten over time,the works of Jean Pierre Sergent bring together styles, techniques,playing with the history of art and its periods.The works within the artwork are transposed creating a polyphony of magical figures.
Article par Melina Piterbarg pour Aurayarte, le 17 septembre 2017 | | texte en anglais & espagnol seulement | Télécharger l'article

En el taller de Jean-Pierre Sergent, el trabajo es en sí mismo una forma de arte.El es el protagonista de una imagen-cuadro viviente,una obra que es un relato acerca de otras obras. Miles de símbolos toman forma, y son reproducidos, formando tramas, ventanas, superponiéndose.El esfuerzo físico va concretando imágenes que brillan, proyectando luz translúcida y opaca.Jean-Pierre nos muestra su visión del Arte como un elemento que se reimprime y toma por sorpresa al artista, cambiando su vida, haciéndolo producir, generando un cambio en su entorno y en su propia personalidad.La creación como forma de vida, o la vida como una creación al que damos forma todos los días, re-produciéndonos hasta lograr la mejor versión de nosotros mismos.
At Jean-Pierre Sergent's workshop, work it's an art form for itself.
He is protagonist of a living picture- or living artwork. A work that is a story about other works. Thousands of symbols take shape, being reproduced, creating weaves, windows and different layers. Physical effort concretes images that shine, projecting translucent and opaque light. Jean-Pierre shows us his vision of Art as a reprinting that takes the artist by surprise, changing his life, making him produce, generating a change in the environment and in his own personality. Creation as a way of life, or life as a creation that we give shape every day, re-producing until we discover the best version of ourselves.
Article par Melina Piterbarg pour Aurayarte, le 28 août 2017 | texte en anglais & espagnol seulement | Télécharger l'article
Obras que se revelan a cada paso de un proceso mágico de impresión y estampado en acrílico.Capas de color que dan vida a diferentes mandalas. Ventanas que difuminan la luz y nos permiten ver el interior del taller de Jean- Pierre Sergent.