Past Exhibitions
6th BESANÇON BIENNAL
Micropolis | Besançon | France
/
> Friday October 18: 2 - 6 pm
> Saturday October 19: 10 am - 8 pm
> Sunday October 20: 10 am - 6 pm
> Entrance fee : 5 €
> Booth # 95



> EXHIBITION : THE AXIS MUNDI + ARTISTIC WEEK-END IN BESANÇON + OPEN STUDIO ON SUNDAY OCTOBER 20th AT 10 am

JEAN-PIERRE SERGENT developed his repertory of artistic forms in the United States and continues to work and exhibit regularly in France and the rest of Europe. He recently exhibited at two solo exhibitions in major museums: the Musée des Beaux-Arts of Mulhouse in 2011 and the Courbet Farm of Flagey in 2102. This year, he had two solo shows of large works on paper: Sex & Rituals at the Omnibus Gallery of Besançon, France, and an other show: Cultures-Energies, in Badenweiler, Germany.

- Four of the Plexiglas paintings from the Entropic Suites, 2011-2013, series will be exhibited at this 6th Biennale edition in Besançon. They are representing highly symbolistic and ritualistic imageries like trances inducting Japanese's flowers patterns, spirituals energies vortex, Indus Yantras etc... all representing some kind of Axis Mundi, the place were one can be connected or reconnected, throughout trances — by a vertical channel between the underworlds and the sky heaven — to our true self, the ancestor's spirits, or even the anima mundi. Those Plexiglas paintings bold in colors: red, blue, orange, yellow... are fulfilling the viewer heart and mind's with wonder, thanks to their spirituals, powerful visionary dreams inducting, and their incredible raw life forces energies.
- To be discovered: 4 Paintings-Sculptures 1993, completed during the artist's early New York years in his DUMBO, NY, studio's, and never shown before. Those paintings-objects are assembled with street collected wood planks, acrylic painted, and mounted with plastic toys as whales, dolphins, manta rays, and pink diaphanous woman face printed on Plexiglas and foam-boards, as well with hardware tools as hooks, staple guns, lead sheets... Which are finally roped and tying up all together. The Paintings-Sculptures are as some sort of magical, animistic and religious objects, religious in it's etymological meaning: to be connected, to be linked with the Whole : Humans, Animals, Nature, the Cosmos and the Universe...!
- Also to be seen some small erotics works on paper from his Mangas, Yantras Y Otras Cosas series.
> SPECIAL OFFER: ARTISTIC WEEK-END IN BESANÇON & OPEN STUDIO
The Besançon's Tourist Office is organizing for this new 2013 Biennale, a special artistic week-end tour which includes one night stay in an hotel and the visiting of several Besançon's artistic places including the Biennale. For this special occasion, Jean-Pierre Sergent will open his studio on Sunday October 20th at 10 am sharp, were the public will discover a monumental wall installation of 18 paintings on Plexiglas the: Entropic Suites 18, 2013, 3.15 m high x 6.30 m length.


CONTACTS
TOURIST OFFICE : Fabienne Deur : fabienne.deur@besancon-tourisme.com / +33(0)3 81 80 92 01
BIENNAL : association DEV'ART : devart.asso-web.com / association.devart2@gmail.com
JEAN-PIERRE SERGENT : contact@j-psergent.com / +33(0)673449486
PRESS : Alena Puig : alenapuig@gmail.com / Coline Gauduchon-Blin : gbcoline@gmail.com


- View of the wall installation of 18 paintings in the studio, October 2013, 3,15 x 6,30 m.
> PRESSARTICLE
CARNETS COMTOIS SPLASHT-CLUB BLOG LES ECHOS DU JURA ART DES ANNONCES

> EXHIBITED JEAN-PIERRE SERGENT'S ARTWORKS
Entropic Suites
, 2011, mixed technics on Plexiglas, 2010 - 2011, 1,40 x 1,40 m
- 6 > 8 - Painting Sculptures, acrylic paint on wood and objects, New York, 1993, 120 x 76 x 6 cm
- 9 - Half Paper, acrylic hand silkscreened on Rives BFK paper, 0,80 x 1,20 m, 2003
- 10 > 20 - Mangas, Yantras & Otras Cosas, acrylic hand silkscreened on Rives BFK paper, 42 x 41 cm, 2010-2011
> VIEW OF THE AXIS MUNDI 2013 EXHIBITION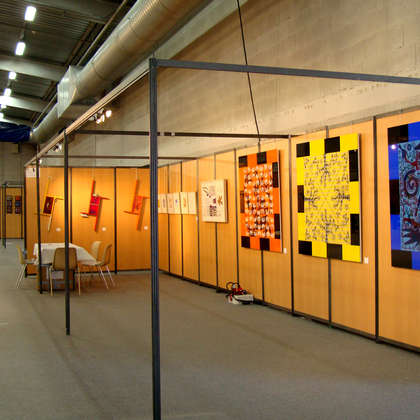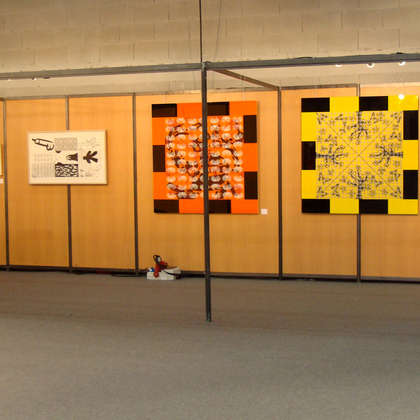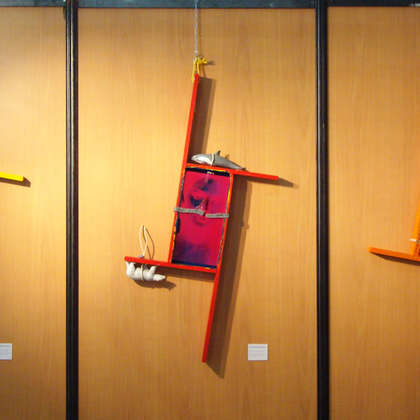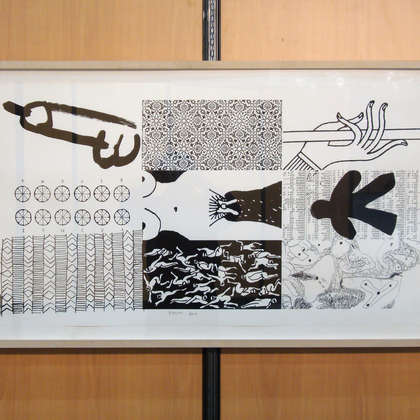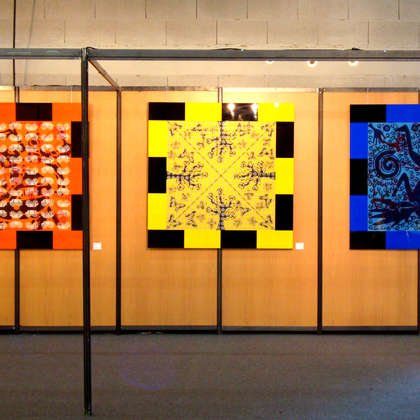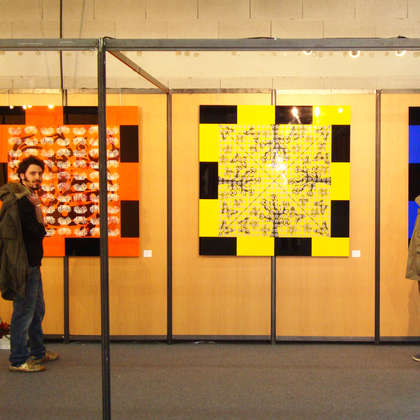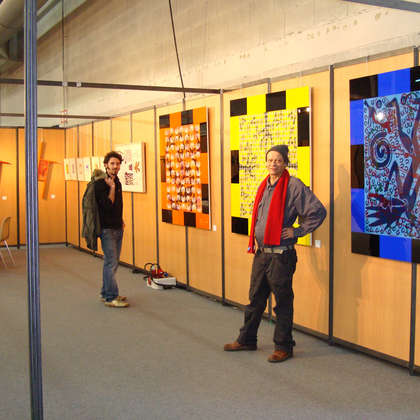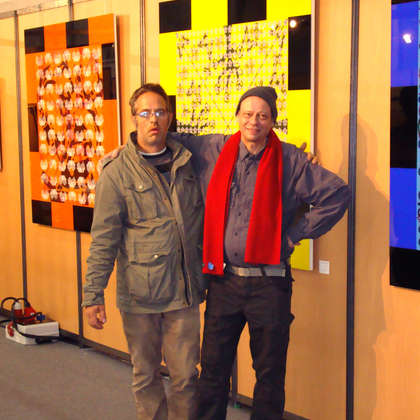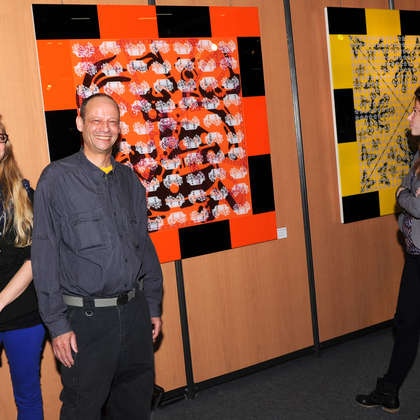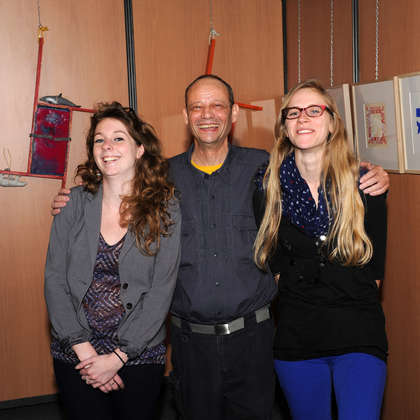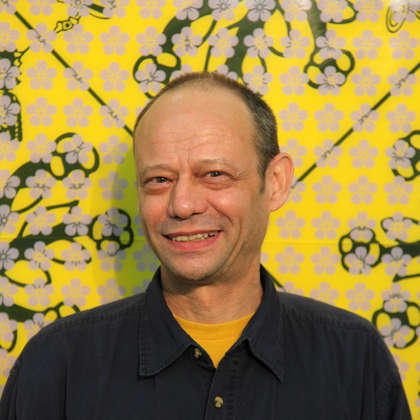 - Installation with Jean-François Delamain & Yann Marchal, October 17th
- 11 > 13 - On the Biennale booth with Coline Blin & Alena Puig, photo by Didier Jacquot, October 20th
- 14-15 - Photos by Stéphane Blondeau for his photographic project : Etre Dieu, October 20th
Save
Save
Save