Current Exhibitions
POLYPHONIES: ARTS, CULTURES & CIVILIZATIONS
GALERIE L'ORANGERIE, 32 Grande Rue, 70100 Sauvigney les Gray | France
/
Opening hours: Saturdays and Sundays from 10 am to 7 pm, monday June 6 2 to 6 pm and during the week by appointment
Opening: Saturday, April 23 from 2pm
Conference: Sunday, May 15 at 4:30 pm (by reservation)
Meetings with the artist: Saturdays May 28 & June 4 from 3 to 6 pm
Gallery Director: Christine Herrgott | orangerie-charmoiselle.fr | orangerie.charmoiselle@gmail.com | 06 78 50 31 25
---
THE GALLERY + DIRECTIONS: The Gallery of the Orangery is located in a residence of 1850 with its beautiful garden, in Sauvigney Lès Gray, Haut-Saônois hamlet (10 kms of Gray and Gy, 50 kms of Besançon and Dijon).
It is an atypical and convivial place planned to promote the Art and the Culture in a country side environment.
VERY IMPORTANT: please indicate on your GPS the address : 32 Grande Rue, 70100 Sauvigney les Gray (do not put Galerie l'Orangerie which would take you elsewhere !)


---
JEAN-PIERRE SERGENT French-New Yorker artist, lives and works nowadays in Besançon. His work has been exhibited internationally since the 1990s: in the United States, Europe, Iran and China. Since 2019, a monumental fresco of 72 paintings on Plexiglas, of 80 m2, "The four pillars of heaven", is installed at the Museum of Fine Arts and Archaeology of Besançon.
Presented to the public, during this particular exhibition: a selection of twenty small formats from the series Shakti-Yoni: Ecstatic Cosmic Dances from 2016 to 2020, 25 x 25 cm; four works on paper from the series : Beauty Is Energy, 2003 & Sky Umbilicus, 2006, 76 x 56 cm; as well as a large painting on Plexiglas Ladies Of The Ants, 1.40 x 1.40 m, 2015, from the series Mayan Diary.
---
POLYPHONIES: ARTS, CULTURES & CIVILIZATIONS

"When you hate a person, you hate something in them that is part of yourself. What is not part of ourselves does not bother us." Hermann Hesse
There is in my work, and this, since the works made in New-York after my Mexican travels and especially after the attack of September 11, 2001, an energy and perhaps sometimes even, an aesthetic, karmic, sexual violence... that is presence, and that springs from the depth, from archaic and distant times: powerful, true, indispensable, wild, consubstantial and fusional of life. 
The arts and rituals of the ancient civilizations seem to me much more adapted, more complete, concrete and accurate, in front of and towards the complex realities of our cosmic self and of our human, individual and collective destinies: birth-death of every human being and of every civilization, sexuality being obviously the link and the starting point of all this. And violence, too, because life always feeds on life, even when fully vegetarian, it can only be so. 
Fully immersed, for years, in the New-York melting pot, I mixed, for example, in my silkscreen work, the image of a statue of a sacrificial Aztec priest-shaman, The Flayed One*, with the ritual, hieratic drawing, on a small piece of wood, of a Selknam Indian from Tierra del Fuego, a tribe that has now completely disappeared. An Egyptian Apis bull carrying on its back the mummy of the deceased (the body and the soul, the Ka*) in the other world, just above a Gaïa*-Nout*, with the body of a woman illustrated by a contemporary pornographic image.
All Art and all creation are at the same time a choice or a non choice. And for my part, I assume this choice to open my work to the world, to its diversities, its strangenesses, even sometimes disturbing some people. 
Because today, even beauty alone is no longer a sufficient excuse for any artistic creation. We need more consciousness and vital energies to create and recreate de facto, new consciousnesses, new hopes, new pleasures... And of course, on this day of March 2022, to breathe into the world a great hope for peace.
Jean-Pierre Sergent, Besançon, March 22, 2022
* The Flayed Man: red terracotta of human size, incarnation of Xipe Totec, Aztec god of the renewal of nature, agriculture and rain, American Museum of Natural History, New York
* Gaia: Fundamental Greek deity (the Earth) who gave birth to the first divine beings.
* Ka: The constituent element of the person representing his or her life force, in Egyptian mythology.
* Nut: Egyptian goddess of the sky, she symbolizes the firmament and considered as the mother of all stars.
---
CHRISTINE HERRGOTT'S SPEECH

It is a great pleasure to welcome you, all of you, visitors coming from the Gray City's area or from farther away.
Thank you very much!
You are here at La Charmoiselle, a very nice name given by its first owners at the end of the XIXth / mid XXth century, Madeleine Caille and Adrien Bonnefoy Sibour, the latter was Prefect of Hérault, Aveyron, sub-prefect of Gray, Prefect of Béthune and Aisne during the first war, then of Haute Vienne and Seine et Oise.

Jean Pierre is a friend, we grew up together in Morteau, then we lost sight of each other for a long time, and I discovered his work on his return from the United States, when he settled in Besançon.
Talking to you about JP Sergent's work is difficult, as it is so rich in cultures, references, experiences, specific to the artist.
The viewer is challenged, subjugated, questioned, even disturbed... Never indifferent.
The artist tells us a multicultural world, drawn from the original art.
The work of JP Sergent is that of a life, spent relentlessly to transcribe a cosmic and deeply natural sacredness.
--- Our animalities.
That of the ancestral gods and the pagan figures.
Gilles Deleuze says: "in art, in painting as in music, it is not a question of inventing forms, but of capturing forces".
The force, the energy of the line, the primacy of the vital flow and its tragic reversion.
Bodies without organs borrowed from Antonin Artaud: those of Life.
JP Sergent readily evokes the unconscious - or human and collective history.
His work springs from our unknown jungles.

In a wild fresco, and disproportionate as in the MBAA of Besançon, a plastic cadence, a ravaged harmony - even if it would escape our rationality, or by touches as here, mainly on paper.
Sergent's work contains a tension and a strong symbolism.
It proposes to us to go back in an original past, made of glorious figures, enjoyment, work, life, death.
It guides us "in the middle of the dark forest" of our unconscious and our collective history.
It speaks of a universal energy, a form of primordial creation. A breath, a push, a contest of forces and circumstances, from which is born the living world, and the humans, in the membrane of the cosmos.
The gesture of JP Sergent is rupestral, its primitive, trivial and sacred imprint.
The work of JPS is based on a perfect technicality and a tireless work. He is both artist and craftsman, in the noblest sense.
I wish you a beautiful meeting with the artist and his work.
In order to continue and diversify the events at the Orangery, an association has been created "L'Orangerie de la Charmoiselle". Everyone will be able to take part.
It is a place that I wish to be open to sharing, a challenge to the legend of an extinct rurality.

Christine Herrgott, April 23, 2022
---
ARTIST TALK, MAY 15 2022
PART 1/4 PART 2/4 PART 3/4 PART 4/4

---
PRESS RELEASE | POSTER | FLYER | CONFERENCE
---
PRESS ARTICLES



JEAN-PIERRE SERGENT: ARTIST OF THE ECSTATIC SOUL, PAR AVA BARIA & SOONI GANDER POUR HAPPY ALI MAGAZINE, HONG KONG






EXPOSITION JEAN-PIERRE SERGENT, POLYPHONIES : ARTS, CULTURES & CIVILISATIONS PAR JEAN-PAUL GAVARD-PERRET, 15 AVRIL 2022, LE LITTÉRAIRE




L'ORANGERIE DE SAUVIGNEY-LÈS-GRAY ORGANISE UNE EXPOSITION DÉDIÉE À JEAN-PIERRE SERGENT, INTITULÉE « POLYPHONIES : ARTS, CULTURES ET CIVILISATIONS »
---
PHOTOS OF THE EXHIBITION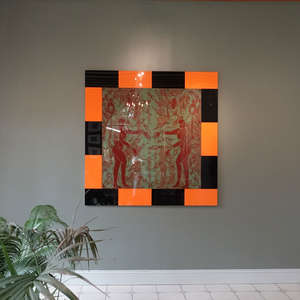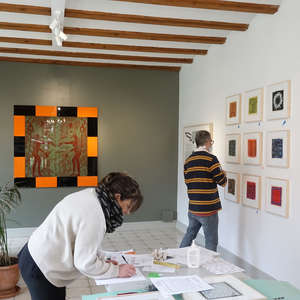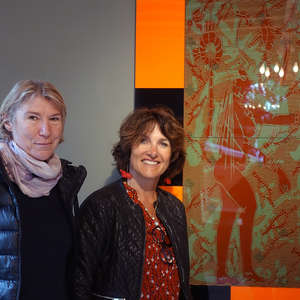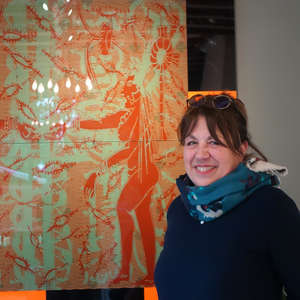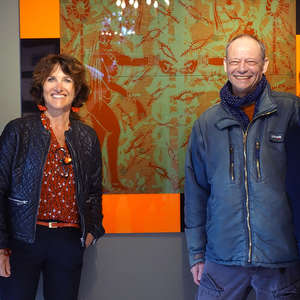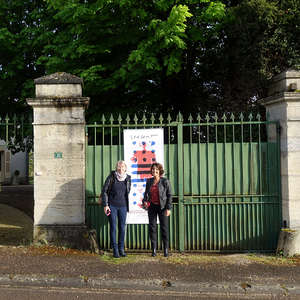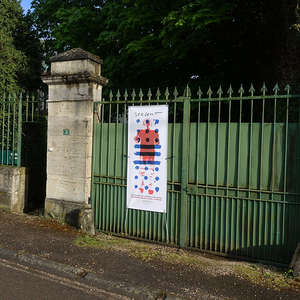 ---
EXHIBITED ART WORKS
- 1, Mayan Diary #94, mixed technics on Plexiglas, 1.05 x 1.05 m, 2010
- 2, Half Paper #24, acrylic hand silkscreened on BFK Rives paper 250g, 61 x 107, unique print, 2001
- 3-5, Beauty Is Energy #1, 3, 5, acrylic hand silkscreened on BFK Rives paper 250g, 76 x 56 cm, unique print, 2002
- 6, Sky Umbilicus #16, acrylic hand silkscreened on on BFK Rives paper 250g, 76 x 56 cm, unique print, 2006
- 7, 8, Bones & Flowers: The Metamorphosis of Life #118,137, acrylic hand silkscreened on BFK Rives paper 250g, 76 x 56 cm, unique print, 2015
- 9-30, Shakti-Yoni, Ecstatic Cosmic Dances, acrylic hand silk-screened and Indian ink on rives BFK paper 250g & yellow Wang Sketching paper 80g, 38 x 37,5 cm, unique print, 2018-2020