Current Exhibitions
WOPART 2019 (Work on Paper Art Fair) OF LUGANO
Centro Esposizioni | 6900 Lugano | Switzerland | Booth D19 bis
/
Opening hours for the general public
Thursday 19th, Friday 20st, Saturday 21nd and Sunday 22rd September 2019 From 11 am to 7 pm
Day ticket 15 CHF
CONTACT WOPART : www.wopart.eu | management@wopart.eu | +39 0522 631042 |+41 765872382
CONTACT GALERIE KELLER : Heidi suter | www.kellergalerie.ch | kellergalerie@sunrise.ch | + 41(0)44 202 09 63 | + 41(0)79 329 58 56

WOPART

The exhibition of works on paper from Ancient to Modern contemporary art represents, today, the most anticipated internationally event for collectors that gravitate to the Swiss Ticino. The themes for this year will be: The Biodiversity Of Paper, The Democracy Of Paper, and The Flavors Of Paper!
DIRECTIONS & FAIR FLOOR MAP



BY CAR
Highway A2/E 35- Lugano South EXIT (Swiss Motorway Sticker for CHF 40) following the direction of Lugano-Centro and then following Gandria direction.
VIEW OF THE BOOTH D19bis



JEAN-PIERRE SERGENT

French-American artist, he developed his repertory of artistic forms in the United States and continues to work and exhibit regularly in France, the rest of Europe, and China. The artist is going to present, at the Keller Galery in Zurich, about ten large sized unframed works on paper from his Large Paper series (1.22 x 1.07 m, 2010-2015) and twenty unique prints from his new Shakti-Yoni: Ecstatic Cosmic Dances 2018 series (38 x 38 cm).
BIODIVERSITY & CULTURAL DIVERSITY
- Kamal's face fades, "Don't destroy the house of my hope." In Lotus Râdhâ, Tara Shankar Banerji

Animal spirits will be widely present at Jean-Pierre Sergent's booth, because he is a committed and passionate artist! For years he has worked tirelessly to bring out and present to the public images of forgotten rituals such as the god of rain and lightning, Maya Chac, inscribed in an axis mundi with the four cardinal directions, thus placed at the center of a world he inseminates! There are also images of animals sprouting out of his imagination: green humpback whales, sixty-nine numbered pink birds (a sacred number in India), two Greek blue deer, mirrored... some Zapotec black jaguars inhabiting shamans spirits during ecstatic trances! Eroticism will also be present, with his new fetish series illustrating the immeasurable feminine energy of Shakti-Yoni, full of desire and passion! As sex regenerates life and the world, again and again, tirelessly and always bringing us joy! It is only afterward, long after that, that materialistic and commercial human thought destroys the world and uses it as a dustbin for its adventure as a sickly explorer and destroyer of all human wisdom. Who are we to destroy the Earth's soul in this way? Who needs that much stupidity nowadays? Greed? Wars? And Human enslavement that irreparably destroys our environment? One must resist! Since the dawn of human time, artists and shamans know how to do that very well! In hoping that a new "Dawn with golden fingers" will rise again! And that we will always hear the birds enchant us every spring to regenerate this world that desperately needs Art, Poetry, and Love so much! Only true and real life must be honored and worshiped! Expecting that it will continue and persist as follows: beautiful, wild, erotic and unsubmissive!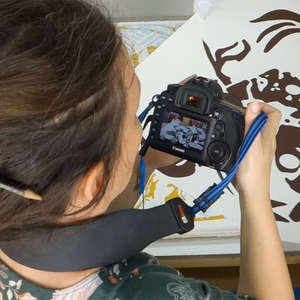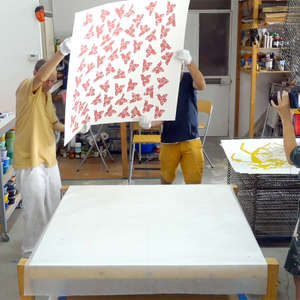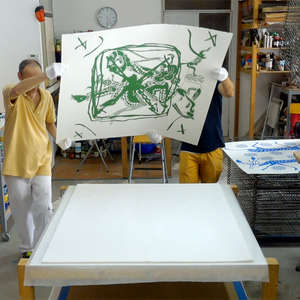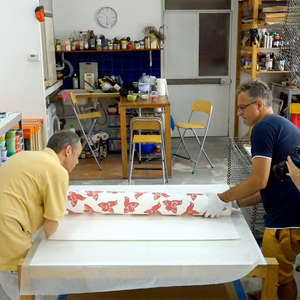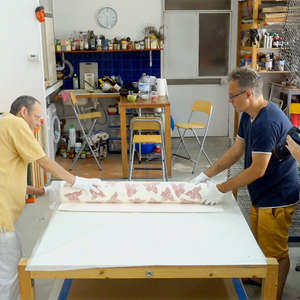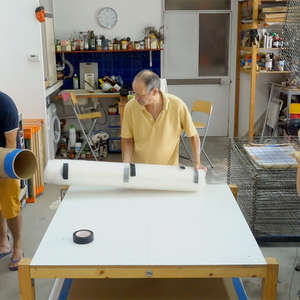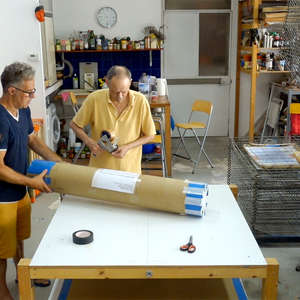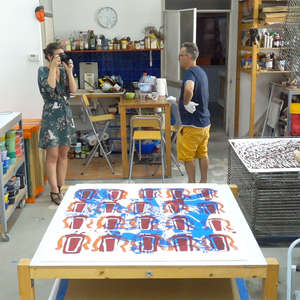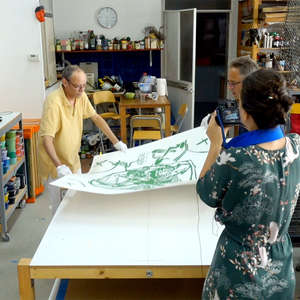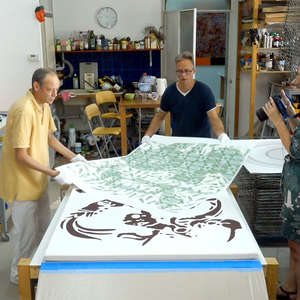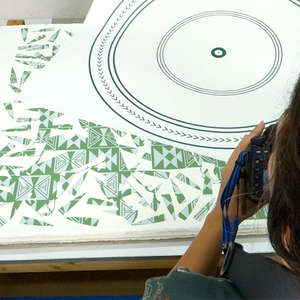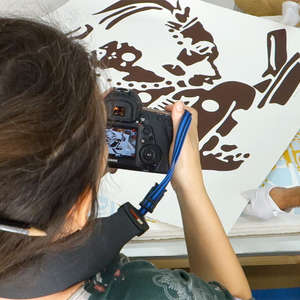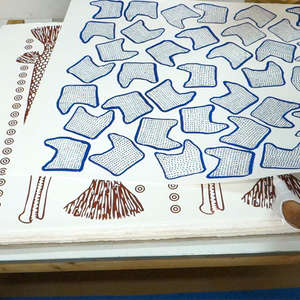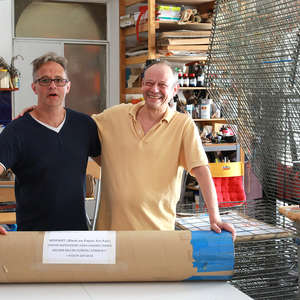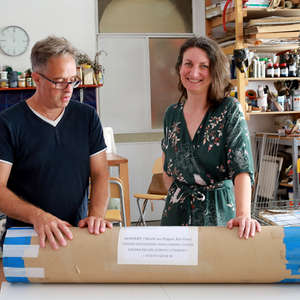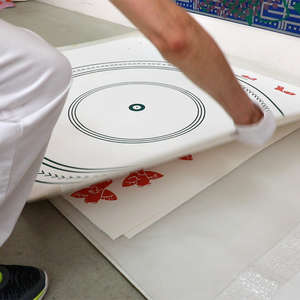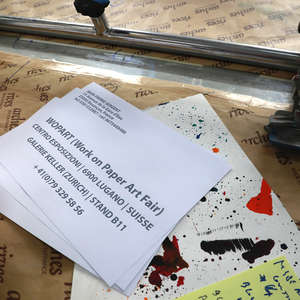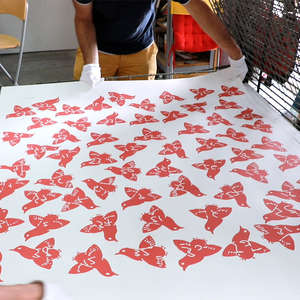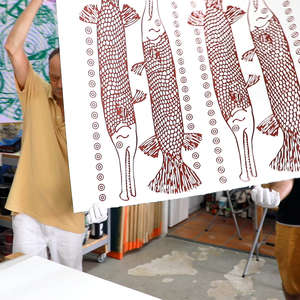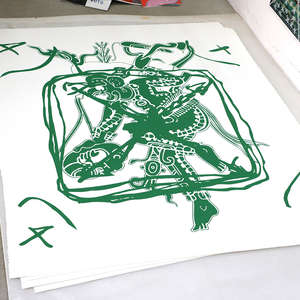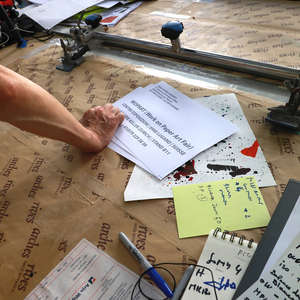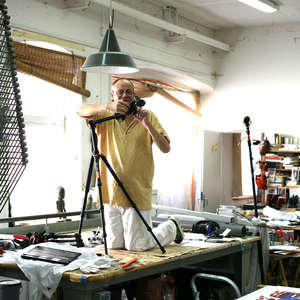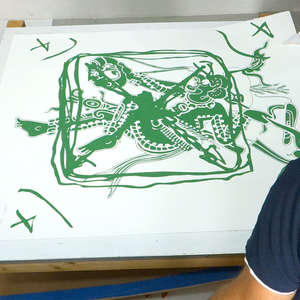 Jean-Pierre Sergent packing twelve
Large Paper
prints (1,22 x 1,07 m) with his assistants Christine Chatelet and Jean-François Delamain. Besançon Studio, July 5 th 2019.
EXHIBITED ARTWORKS
- 1 - 14,
Large Paper,
acrylic hand silk-screened on white B.F.K. Rives paper 300g, 1,22 x 1,07 m, 2014, 2015.
- 15, 34,
Shakti-Yoni, Ecstatic Cosmic Dances
, acrylic hand silk-screened and Indian ink on yellow Wang Sketching paper 80g, unique edition, framed, 37,5 x 37 cm, 2018.
VIEW OF THE EXHIBITION